"What should I do? I have to write an English waiver letter for an application for Bachelor of Physiotherapy. The situation is that the course requirement was 7.0 overall, with no less than seven in each band, but my IELTS score was 7.5 with 6.5 in the speaking band. Please help."
Do you need an English test waiver letter? If you're applying for a program requiring a high score in IELTS or any other English proficiency tests, then you may now be worried that you won't be accepted just because you have a low score. It happens not only to you but also to other applicants, so don't worry because you can help yourself with an essay explaining low GPA.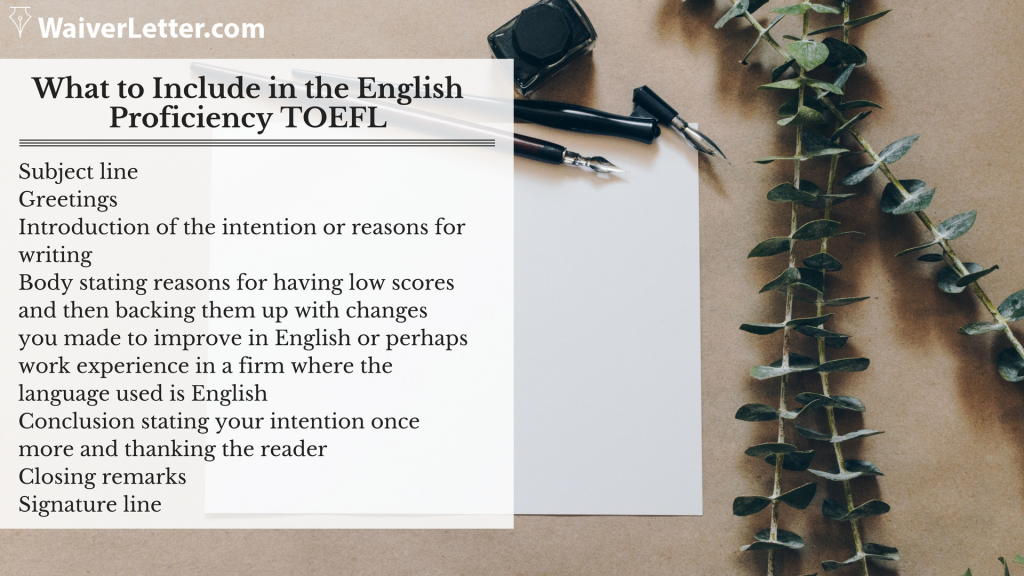 A high English competency level is often a requirement for applicants residing outside the US. It is one of the major requirements for students whose native language is not English. However, not all students fared well in the tests, so they want to appeal that such requirement won't count in their application, especially if it is lower than the average.
So if you're looking to prove that a low score in the English as a second language test won't affect your performance in the course and that you deserve to complete your application without it, write a straight to the point and meaningful waiver letter.
In the letter, you may address personal problems that had affected low English test scores. Without the excessive use of emotions, write in a direct manner that shows how you are well qualified for the degree even if you don't make it to the cut of the average score requirement.
If having a low score was affected by work, then you may also include it in the waiver letter. These circumstances and more can be included in the letter to prove that certain situations had hindered you from receiving high marks. However, you must also write some convincing facts, such as working in an all-English firm or company for at least a year. You may also include things like high grades in other subjects, which are pre-requisite in taking the degree.
What to Include in the English Proficiency TOEFL
Subject line
Greetings
Introduction of the intention or reasons for writing
Body stating reasons for having low scores and then backing them up with changes you made to improve in English or perhaps work experience in a firm where the language used is English
Conclusion stating your intention once more and thanking the reader
Closing remarks
Signature line
There you have what to do if you want to explain why you have not so stellar English proficiency score in your low GPA waiver letter. If you're struggling coming up with your own, you may also get expert help.
Contact us for an outstanding and convincing English test waiver letter today!