"I need help in writing a 700-1000 word personal statement for college. How do I start with it?"
Graduate or doctoral program applications are competitive and tight. You might not be able to shine among the rest with a poor personal statement. This essay is one of the bases of the admission/screening committee in deciding the people to shortlist for an interview. So if you need help with personal statement waiver letter or GRE waiver request letter sample, check out this quick guide.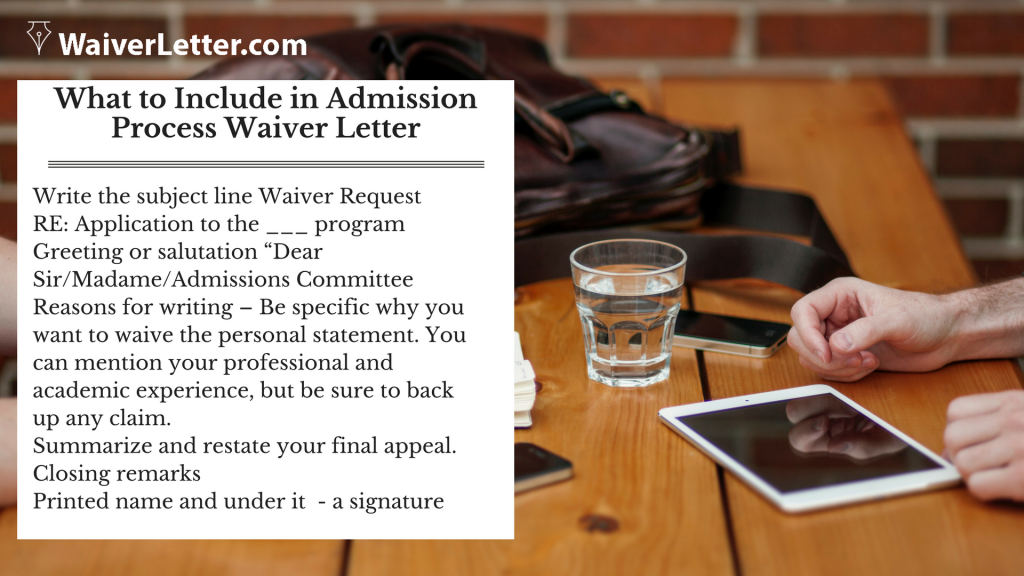 If you're applying for college, you should come up with an impressive college admissions personal statement displaying your talents, skills, and knowledge proving your fitness for the course. Experts can help you write an excellent essay for the college application process and even explain poor GPA in a poor GPA waiver letter for you. On how they work on a great personal statement, it's easy.
The admissions essay must contain reasons for selecting the school and the course. If there is no essay prompts to answer, be sure that it contains the essentials about you – your skills, knowledge, and experience proving your genuine interest in the program.
On the other hand, there are applicants that want to waive their personal statement, and that's another advice for writing college application essays.
What to Include and What to Avoid Admission Process Waiver Letter
Writing the perfect personal statement waiver letter isn't hard. It is concise and short, detailing why you want to waive a part of the application document. You don't have to make it fancy or long, but just clear and meaningful.
Write the subject line Waiver Request
RE: Application to the ___ program
Greeting or salutation "Dear Sir/Madame/Admissions Committee
Reasons for writing – Be specific why you want to waive the personal statement. You can mention your professional and academic experience, but be sure to back up any claim.
Summarize and restate your final appeal.
Closing remarks
Printed name and under it – a signature
What to avoid
Not following the instructions of the school in writing the waiver letter
Making a too long waiver that no one would take interest reading
Not proofreading and editing
Submitting a generic letter to all applications where you're requesting
Take note of these tips when writing the personal statement waiver letter and increase your chances of being approved.
Do you need help? Contact us for a simple but outstanding personal statement waiver letter today!