"I need help in addressing why my grade is F on physics for my application to the doctoral of the physical therapy program. How do I begin and explain why my GPA is low?"
How do you write the poor GPA waiver letter? When applying to a school, they require for the GPA submission along with other requirements, such as a transcript of records and test scores. These are some of the essentials they need to determine your suitability for the doctoral of the physical therapy program. But if you don't want to submit a poor physics grade of "F," you may request a waiver letter. However, not all student requests will be granted. To increase your chances of submitting a good waiver request for a poor GPA, here's a quick guide for you.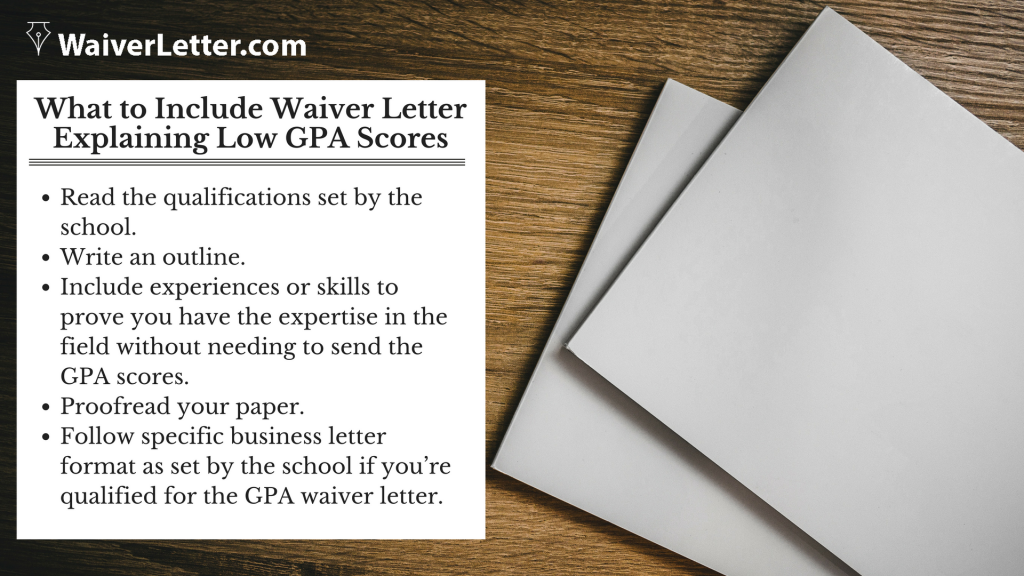 If you believe that you have the experience, knowledge, and skills in the field of physical therapy, but you have a poor GPA, which you don't want to submit with the requirements, learn how to write GRE waiver request letter.
Before writing to explain underwhelming grades, be sure to know how to write the letter to structure it well so that it can help you achieve your purpose of waiving the low GPA.
Mention the purpose of writing the letter. You must clearly explain why you're requesting of waiving your GPA scores. In the next paragraphs, you must show them that you don't need to submit those low scores, but be sure to mention specific points why.
In addition, demonstrate your academic and professional experience as well as skills, which are enough to prove that the low scores won't affect your performance in the doctoral course and that you don't have to submit these grades. Make sure that you support every claim with descriptions or examples. Before closing the letter, restate your intentions of waiving the poor GPA and of completing your application to the physical therapy program without it.
How to Start and What to Include Waiver Letter Explaining Low GPA Scores
Read the qualifications set by the school.
Write an outline.
Include experiences or skills to prove you have the expertise in the field without needing to send the GPA scores.
Proofread your paper.
Follow specific business letter format as set by the school if you're qualified for the GPA waiver letter.
There you have a quick guide on how to address bad grades in the personal statement or waiver letter. Follow them and increase your chances of being approved for the application without the GPA scores.
Get help writing a poor GPA waiver letter from us today!