Get a PET Waiver
Few people enjoy taking exams. They're stressful, expensive, and take time away from important work. If you're required to take the PET, but already have a high level of English knowledge, you may qualify for an exemption. To do this you will have to write a letter. It doesn't  matter if it's SAT waiver or other, you can look through our guide on how to do so. The PET shows that you have basic competence in English. It involves three sections – reading, writing, and speaking. It takes about two and a half hours. It's important for demonstrating that you can comfortably use basic English, but if you qualify for a waiver, how can you get it? Here's our letter writing advice.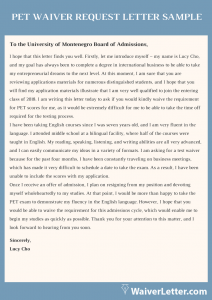 Structure of PET Waiver
Follow this basic structure and you'll be well on your way to a great PET waiver letter.
First, write the date.
Then skip two lines and write the name and address of the person you're writing to.
Write a greeting two lines below.
Write an introduction with the reason for your letter in it.
Go down a line, then write a body with supporting evidence.
Add a short paragraph thanking the recipient for their time.
Skip two lines, and add a closing.
Type your name four lines down, then print and sign your name in the blank space.

Tips for Writing PET Letter
These are the five most important things to include when writing your PET letter. Leave one out and you'll make an imperfect impression.
A name: If you possibly can, find out who will be reading your letter and then address it to that person. 'To whom it may concern' or 'Sir or Madam' makes a bad impression.
Perfect grammar: Present your best face by having your letter proofread by someone with excellent English skills.
All the facts: …but only the facts. Be sure you're including everything you need to make your case convincingly. However, leave out irrelevant details so that your reader doesn't have to wade through extra stuff to get to the point.
Supporting documentation: Thoroughly check the requirements for supporting documentation. Ensure you send it with your letter or are prepared to send it upon request.
The right structure: To make sure you're building your letter correctly, create an outline. You can use the template we gave you or make your own – just be sure you stay on track.
Find PET Exam Papers
The PET exam is definitely a challenge. Writing a waiver letter, any of them, for instance, MCAT waiver letter can seem nearly impossible by yourself. Though you're now armed with more knowledge, we know that's sometimes not enough. That's why we offer a staff of trained writers who can assist you. We want to help you succeed.
Here are the advantages of working with our team.
Reliability: They are trustworthy and able to create the quality content free from plagiarism and with timely delivery. We only prуfer working in the style that is actually required by the valuable clients.
No inappropriate words: You would never find any kind of irrelevant or meaningless content in the tasks written by our team. The written content is ideal from all the aspects.
Completing urgent orders: We can complete the urgent orders without making the delay of few minutes. Therefore, we are the best choice for getting your waiver letter done.
To make your PET waiver letter truly dynamic, contact us now and let us put our best writers on your case!