What Is an English Waiver Letter?

Applicants to schools or for various types of employment in English speaking countries who come from a non-English speaking country are often required to take an English competency test such as TOEFL or IELTS to demonstrate they possess a level of English proficiency that is high enough to perform will enable them to perform at an acceptable level. In some cases, ESL applicants can request that the language competency test requirement is waived. An English waiver letter is a formal written request to the organization/institution that is being applied to, that they waive the English competency test. Most organizations have basic criteria that if met, allow the exam waiver to be granted.
Examples of criteria that make an applicant eligible to request an English waiver include:
Bachelor's or master's degree earned in the U.S. or another English speaking country
Full-time work experience in an English speaking environment for four years
Previously taken an English competency exam with a sufficiently high enough score
The criteria for waiving the language exam requirement vary from, so it is recommended that you check with the specific organization/institution involved to determine whether or not you are eligible.

5 Frequently Asked Questions about Writing a Winning English Language Proficiency Waiver Letter
What is an English language proficiency waiver letter?
If you do not want to take an English language test, you can write a waiver letter where you will have to describe why you do not need to take it. You can read an English language test waiver request sample to see how to write one.
What do I need to include on a TOEFL waiver?
Read a TOEFL waiver letter example to get an idea of the things you need to include. As a general rule, you will have to attach any certificates that can work as evidence of your English level.
What requirements should I meet for a TOEFL waiver?
To be eligible for a TOEFL waiver, you will have to prove that you have studied in an English speaking country. You can also present another English certificate as proof of your English language proficiency. Look for a TOEFL waiver request letter sample to see how to write one.
How do I write an English language test waiver?
An English language test waiver sample can serve you as a guide. You will have to start by mentioning your request, followed by an explanation, and conclude your letter by thanking the reader.
How do I write a waiver letter for university?
Learn how to write a waiver letter for university with these simple steps. Start your letter with an introduction where you state your request. Continue your letter by writing why you are asking for that waiver and mentioning any evidence to support your argument. Finish it by thanking the reader and signing it.
Writing the Perfect Letter Waiving the English Competency Exam

Your IELTS or TOEFL waiver letter requesting that language competency exam requirements be waived should follow the basic outline shown here:
Salutation. First of all, it will be the date, the name and full address of the recipient, then it should be a standard greeting such as "Dear Ms. Smith" or "Admissions  Committee".
First paragraph/introduction. A short paragraph stating you are requesting that the language exam requirements be waived.
Body. One or two paragraphs that provide the reasons why you are requesting the English competency exam be waived. Include examples and any information that supports your reasons.
Conclusion. Thank the letter recipient for their time and consideration.
Your English waiver request letter should be written using a standard business letter format unless otherwise requested. Reviewing an English waiver letter format can show you how the letter should be structured, and provide some insight as to writing style and type of content that might be used. If you remain unsure about how to write your request letter, we provide a service that can help. But first, you might want to take a look at our English proficiency waiver letter sample below.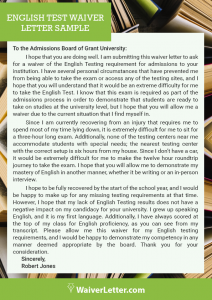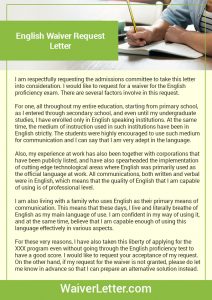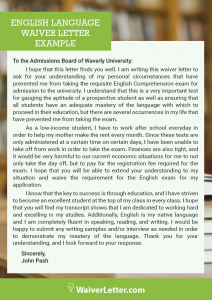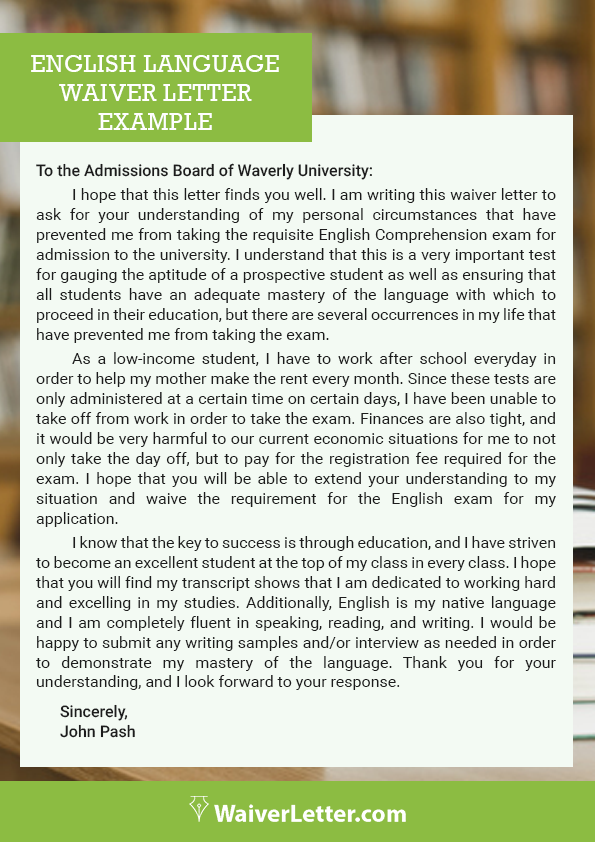 "What should I do I'm stuck with writing the English proficiency waiver letter?"
When applying for admissions, some students, especially international students, want to waive their English proficiency scores.   Luckily, some schools grant the request but on a case-to-case basis. They may allow it under certain circumstances listed on their sites. In general, they grant the English proficiency waiver letter for students that have completed a minimum of 3.0 GPA score in a school where the primary education instructions are in English. To know more about TOEFL waiver request letter, keep reading.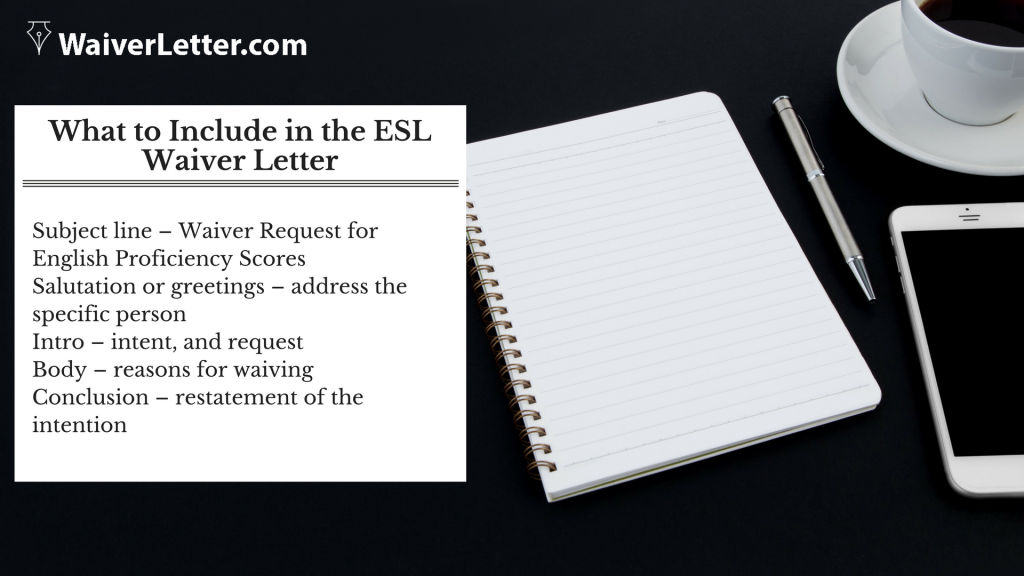 You're not alone. Some students looking to apply to a school requiring an IELTS, TOEFL or TOEIC score are struggling to write the waiver letter. Worry not, though. You can do something by writing a convincing waiver letter, especially if you have a working experience in a US company, organization or institution where the primary language used is English.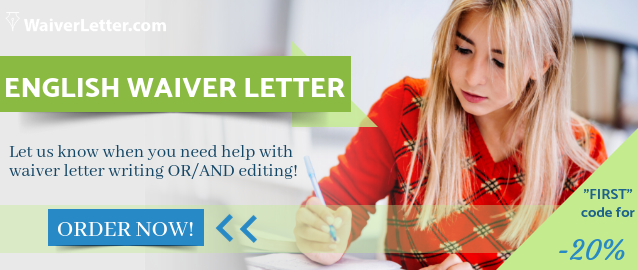 Expert Advice on How to Write Waiver for English Competency Test & SELT Waiver
If you're writing the English skills waiver letter or personal statement waiver letter, you should write using a business letter format.  You may also want to check for special forms, which are often published on the official website of the school. Be sure that you address the letter to the specific person, or use "Dear Sir/Madame/Admissions Committee if you are clueless on whom to address the letter. Write your intent for waiving the English proficiency score and then request for it. State the reasons you think that you can waive the requirement. Write meaty sentences, and don't make a long waiver letter. Be sure to stick to facts. If you're making claims, be sure to illustrate or provide samples. Finally, summarize your intent and write that you're waiting for the reply. Don't forget to thank the reader for the last part.
SELT stands for Secure English Language Testing, which is widely spread in the United Kingdom. Our UK experts will be glad to lend you a hand with a waiver explaining why you either have not or have poorly passed your SELT. With our writers and editors, your SELT waiver will perfectly showcase your language proficiency and leave no doubt concerning your knowledge.
What to Include in the ESL Waiver Letter
Subject line: Waiver Request for English Proficiency Scores
Salutation or greetings: address the specific person
Intro: intent, and request
Body: reasons for waiving
Conclusion: a restatement of the intention

"What should I do? I have to write an English waiver letter for an application for Bachelor of Physiotherapy. The situation is that the course requirement was 7.0 overall, with no less than seven in each band, but my IELTS score was 7.5 with 6.5 in the speaking band. Please help."
Do you need an English test waiver letter? If you're applying for a program requiring a high score in IELTS or any other English proficiency tests, then you may now be worried that you won't be accepted just because you have a low score.  It happens not only to you but also to other applicants, so don't worry because you can help yourself with an essay to explain low GPA. A high English competency level is often a requirement for applicants residing outside the US.  It is one of the major requirements for students whose native language is not English.

However, not all students fared well in the tests, so they want to appeal that such requirement won't count in their application, especially if it is lower than the average. So if you're looking to prove that a low score in the English as a second language test won't affect your performance in the course and that you deserve to complete your application without it, write a straight to the point and meaningful waiver letter. In the letter, you may address personal problems that had affected low English test scores.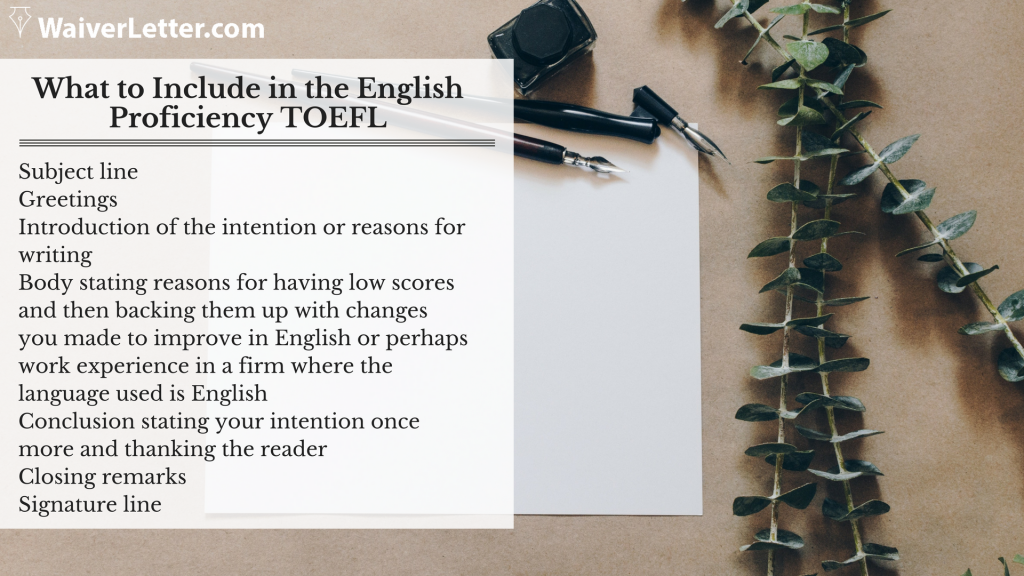 Without the excessive use of emotions, write in a direct manner that shows how you are well qualified for the degree even if you don't make it to the cut of the average score requirement. If having a low score was affected by work, then you may also include it in the waiver letter.  These circumstances and more can be included in the letter to prove that certain situations had hindered you from receiving high marks. However, you must also write some convincing facts, such as working in an all-English firm or company for at least a year. You may also include things like high grades in other subjects, which are pre-requisite in taking the degree.

What to Include in the English Proficiency TOEFL
Subject line
Greetings
Introduction of the intention or reasons for writing
Body stating reasons for having low scores and then backing them up with changes you made to improve in English or perhaps work experience in a firm where the language used is English
Conclusion stating your intention once more and thanking the reader
Closing remarks
Signature line
There you have what to do if you want to explain why you have not so stellar English proficiency score in your low GPA waiver letter. If you're struggling coming up with your own, you may also get expert help.
About Our Writing and Editing Services
We offer GMAT waiver letter writing services for any purpose including requesting a waiver of English competency exam requirements. The writers we use are all skilled professionals with advanced degrees. In addition, every writer is a native English speaker and has extensive experience with English letters including IELTS waiver and TOEFL waiver. The letters we provide are original and written to meet your specific requirements. All letters receive final proofreading to ensure they are error-free as a standard part of our service. Use of our English waiver writing services includes:
Direct contact with the writer working on your letter
Guarantee of complete customer satisfaction and on-time delivery with every letter
Affordable rates that are suitable for any budget
Contact us for a well-written and effective English waiver letter from one of our waiver letter experts!
Get help from the pros for topnotch English proficiency waiver letter today! Write a cogent English waiver letter with our pros!