"Please help! I didn't take the GRE for a graduate program that I already had. Now, I am applying to another program to complement what I learned before in the graduate degree. My GPA is 3.5."
You've successfully completed an MBA program, but then want to apply for another graduate course to complement what experience, knowledge and skills that you already learned from it. However, you didn't take the GRE before, and it is now a requirement for the recent application. Learn how to write the GRE waiver letter in this quick guide for your reference or check out our GMAT waiver letter examples.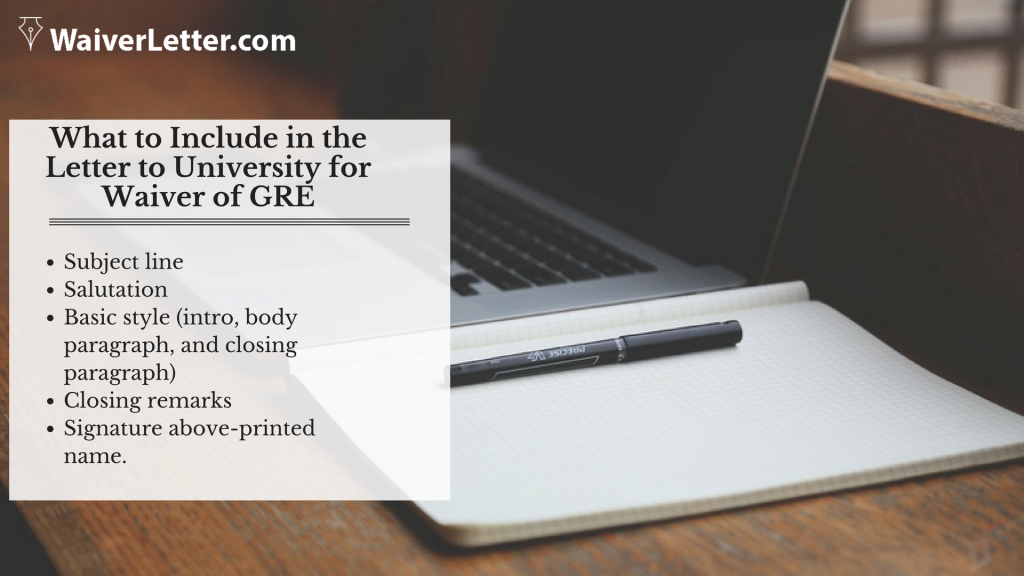 Writing the GRE waiver must not be stressful. In fact, it is a simple statement of reasons and facts proving that your appeal is worth considering. Not all applicants are qualified for it though, so you must check the official site of the school where you're making the appeal. If you do qualify for the request, you must begin writing the letter.
Check out several examples of the waiver letter for an idea of its content. However, you don't need to use the first one you have found. Remember that certain schools also have their instructions on how they want the letter written. Check those out.
Use a business letter format when writing the letter, but then also check their site for any additional instructions to follow. You must next address the person you're writing the letter for, or the Admissions Committee itself if you didn't find the info on whom to address the letter.
Begin stating your appeal for the waiving of the GRE test scores. Next, highlight the reasons for the request, and see to it they're concise and clear – and factual. Lastly, summarize and request for their reply, and then thank them for reading the latter.
What to Include in the Letter to University for Waiver of GRE
The MGT waiver letter must include:
Subject line
Salutation
Basic style (intro, body paragraph, and closing paragraph)
Closing remarks
Signature above-printed name.
Follow this quick guide and improve your GRE score and university waiver letter. For help, you may want to contact our expert for Graduate Record Examinations waiver letter.
Get help from the pros in writing the GRE waiver letter today!