What Is the Tuition Fee Waiver Scheme?

It's essentially a scholarship that waives your tuition fee. If you are awarded one you won't have to worry about paying for the tuition fee waiver scheme because the costs involved will be covered by either a sponsor or the government. Under the tuition fee, waiver scheme for colleges, 5 percent of the sanctioned intake per course shall be available for these admissions. The seats will be supernumerary in nature and be filled through a centralized admission process carried out by a competent authority.
What Are the Rules for a Place on This Waiver Scheme?

To get the benefit of the tuition fee waiver scheme, the candidate must adhere to the rules of requirement and will also have to submit the income certificate issued in the name of their father or mother at the time of registration. No other certificate or document will be considered valid. In order for a candidate to be selected for the TFW scheme. The following is a guide for what you need to know about GRE waiver request letter sample:
Only 5% of whole intake seats are available for the tuition fee waiver scheme scheme
Students will be accepted from low-income families only if they can prove their parents have a low income
Students with extremely high academic results will be accepted
Candidates willing to opt for TFWS seats will have to specify their willingness in the option form as a separate choice code
The waiver is limited to the tuition fee only. All other fees will have to be paid by the beneficiary
Students admitted under this scheme will not be allowed to change their college or course under any circumstances
The Competent Authority will prepare a merit list of applicants from among the eligible students and will affect admissions strictly on a merit basis.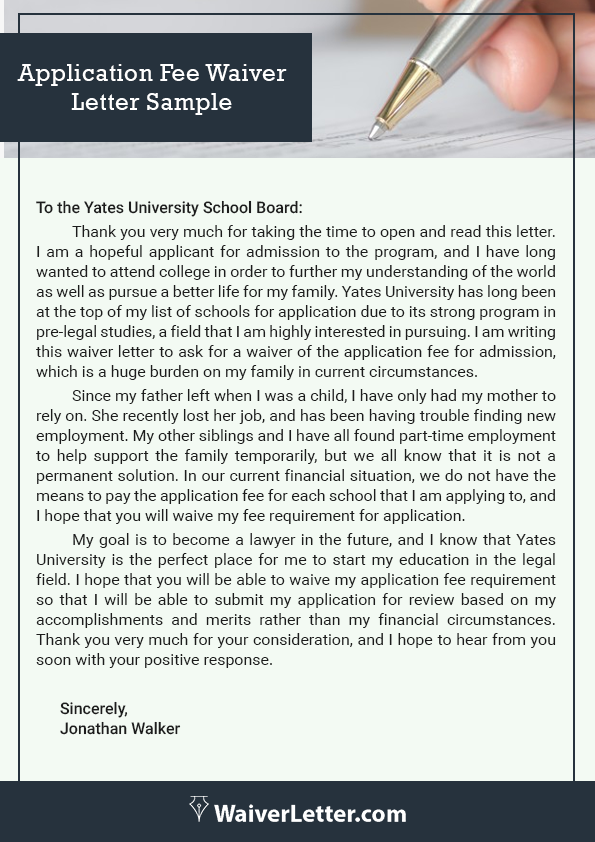 How Should I Apply for the Tuition Fee Waiver Scheme for Colleges?
While the application process itself is quite straightforward. There are documents that you will need to have completed before you apply to the college of your choice that is offering the tuition fee waiver scheme. If you have earned your place on the scheme by having high academic results then you only need to include your results with the application form. If, however, you are from a low-income family, you will need to get proof of this signed by the local tax inspector or your region. Once this has been completed, then you may apply for your place. When completing these forms, always remember to:
Write legibly and clearly so your writing can be read and understood
Only use blue or black ink. Using 'Rainbow' colors is unprofessional and tacky
Specify the college or university that you are applying to
Always be honest and tell the truth. Being dishonest or blatantly lying will only lead to you being found out which may result in you not getting a placement

How Important Is an Application Fee Waiver?

On average, college applications can cost around $40 while the upper selective schools can be up to $70 or more. If you apply to just five of these pricey private schools, then you're already looking at application fees of well over $350. Unless you're applying to fee-free schools, the costs of applying alone can seriously add up, especially if you're applying to many colleges. Fee waivers can be a huge help to alleviate the costs incurred in the application process, you can get 4 free fee waivers (more under special circumstances) but they aren't available to everyone. Fee waivers are given only to students and families who qualify for them and it is not guaranteed that the college will automatically grant a waiver fee, they may require to follow up evidence to your request before waiving the fee.
Who Is Eligible for Their Application Fees to Be Waivered?

If your household has a combined income of less than $40,000 a year or you already receive some kind of aid like lunch tickets, these fees will most likely be waived. Most colleges are part of the College Entrance Examination Board Fee Waiver Program and if you are approved for an SAT fee waiver, you can also use the same waiver when applying for your college. This does not happen automatically, your counselor needs to approve your request and issue a signed statement of the need for college applications and a special waiver code when you register for the SAT online. To be eligible, you should fall into the following categories:
You're enrolled in or are eligible to participate in the National School Lunch Program
Your annual family income falls within the guidelines set by the USDA Food and Nutrition Service
You're enrolled in a federal, state, or local program that aids students from low-income families
Your family receives public assistance
You live in federally subsidized public housing or a foster home or are homeless
You are a ward of the state or an orphan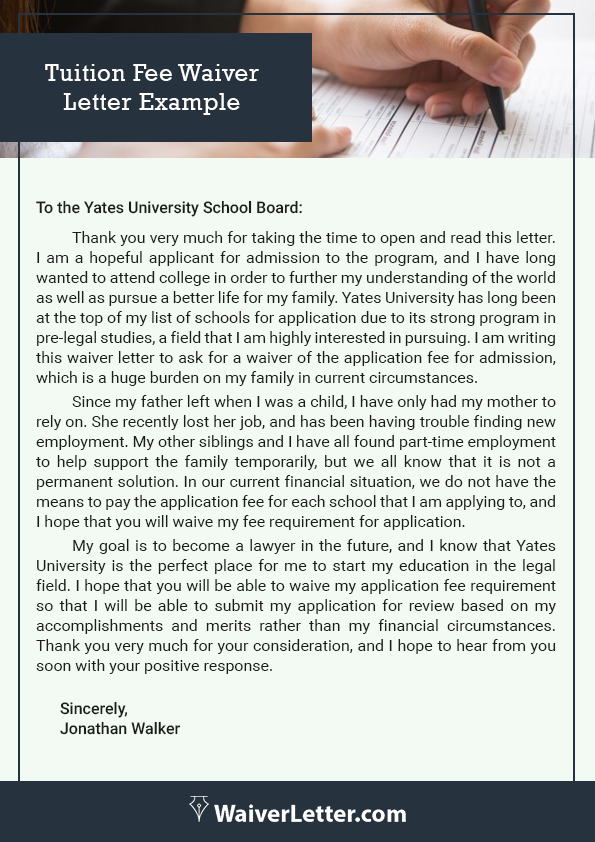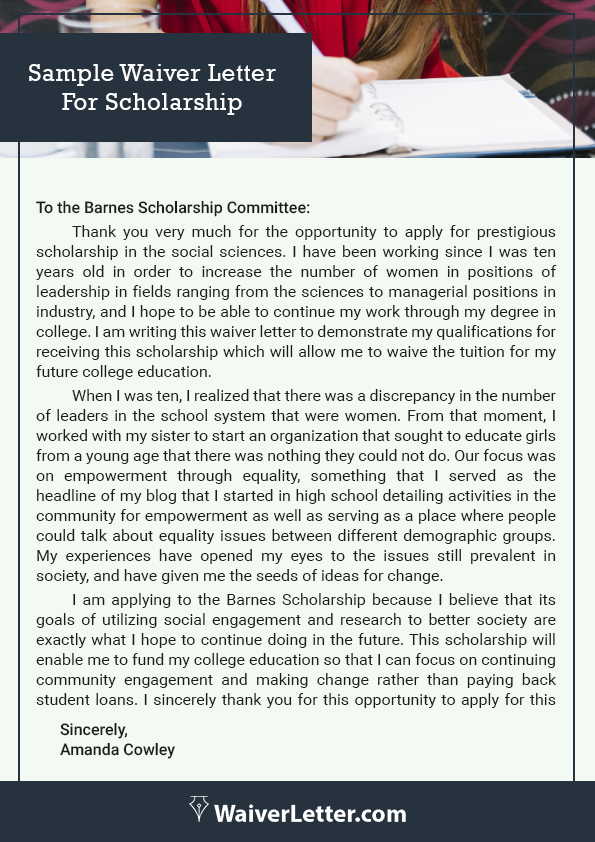 How Do I Write My Application Waiver Fee Letter?

The letter you write to accompany your application fee waiver does not need to be long-winded, but it does need to be meaningful and clear. It should follow a formal format so the writing will need to be concise, to the point and not waffle on. As a formal letter, you should show the appropriate respect in your writing. Don't use humor and always be honest. The waiver letter sample should be:
Name, address and the current date
Subject Line. Waiver Request
Reference line. Application for joining the specified program
Salutation or greeting. Dear Sir/Madam, Dear Admissions Committee
State the purpose of why you are writing
State your reasons for applying for a waiver. Include your eligibility and attach proof with a form completed by your school counselor
Summarize your points. Give a final appeal to have your request approved. In the closing sentences, tell them you would like to receive an update on whether your request is granted or not
Sign off the letter with yours sincerely
Signature above your printed full name

What Is a College Tuition Waiver?

College tuition waivers are when a college waives tuition fees for a certain class of students. This could be anything from someone who has won a national merit scholarship, students whose family income is low or students with exceptional academic ability. However, this does not mean automatic acceptance into a college because you meet their criteria, they only help you pay the tuition fees if you have been accepted into their program and know how to write a waiver letter. You will still need to apply to the college the same as everyone else and ensure that you have won the placement before you write to them about their college tuition waivers. Keep in mind that almost every college has the right to retract its application fee waiver program for the year if they get overwhelmed by too many applicants.

What Is Included in a Tuition Fee Waiver Scheme for Colleges?
In general, a student wanting a college tuition waiver must be registered full time (exceptions are made for students with disabilities), be in good standing and not be participating in any other form of tuition fee waiver scheme for colleges. College tuition waiver generally covers the following charges but check each individual college:
Full tuition, including differential (if applicable)
Service fee
Health service fee
Academic facilities maintenance fund assessment (AFMFA)
Library and Information Technology Assessment (LITA)
Health Insurance if the student chooses to be covered by the plan
Waivers do not cover the following charges:
General fee
CTA transportation fee
Student-to-student fee
Sustainability Fee
The remainder of the cost of health insurance over $199.50
International Student Fee
How to Request a Tuition Waiver

In most cases, this will be required through writing an essay of xxx words explaining why you're interested in attending that particular college, your goals in taking the desired program and how this college tuition waiver will help you meet those goals. So you will need to think long and hard about what you are going to write for the tuition fee waiver scheme for colleges. We have included some helpful tips for you to consider before writing the application fee waiver:
Always write within the required word count for the application that you are making. Check the specific expectations of the program that you are applying to.
Always write in a very concise manner: you should never use any form of filler within your writing.
Be relevant, if it does not directly benefit your application then you should not be including it.
Never exaggerate your abilities or lie about yourself in any way.
Always avoid the use of clichés within your own writing.
Why are you applying for their particular college? What makes the course appealing to you?
Where do you see your career taking you and why it's important to you?
What inspired you to choose this particular career path?
Carefully proofread: even a single spelling mistake will project the impression that you do not care enough about your application.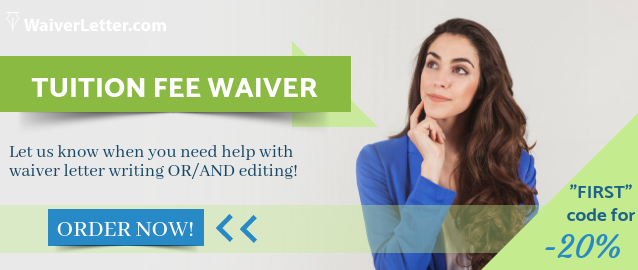 Our Professional Services Can Help You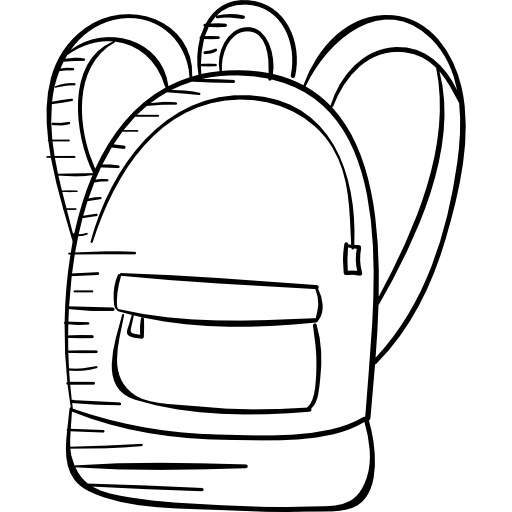 It can be increasingly difficult to keep up with the number of services that are available to help you when you need it most for the tuition fee waiver scheme for colleges. Our unique and highly specialized waiver letter writing services are here to help you write a waiver letter that will improve your chances of getting the waiver you need. All our staff are highly qualified and have many years of experience in providing all types of support for writing to academic institutions for an application fee waiver. In using our waiver packet services for tuition fee waiver scheme, you will benefit from:
Highly affordable services with flexible discounts and no hidden extras for an application fee waiver
24/7 friendly ordering and customer support
Professional proofreading carried out by experts
Unlimited free amendments
A fully confidential service
On time delivery of college tuition waiver, guaranteed every time
100% full satisfaction or your money back
For a truly unique college tuition waiver application, get in touch with our professional support staff now for a service that you can trust and afford!