An MBA GMAT waiver letter is a written request a student makes to the college asking them for a waiver on their GMAT® score – a necessary requirement that most schools ask the applicant to have. This type of letter can help you get accepted in an MBA with GMAT waiver. An MBA GMAT waiver letter should include evidence – like names, dates, courses, certificates, medical reports, etc. – that can help you with your demand.
The letter's purpose is to communicate to the admission board why you are a strong candidate even without presenting your GMAT® score. It is a written request that explains why you may have a low GMAT® score, or why you cannot take the test. If you make sure you hand in a well-written and strong GMAT waiver letter, your waiver may be granted.
How can I write successful GMAT waiver request letters?
A successful GMAT waiver letter should include evidence that will convince the reader to grant your request. It should follow a specific format and be written in formal language. To ensure you write a winning MBA GMAT waiver letter you will have to read some samples. Also, make sure you pay extra attention to your grammar.
Should I write a GMAT or GRE waiver letter if I want to enroll in an MBA?
This will greatly depend on the college. Some schools may accept a GRE for an MBA, while others may need you to take a specialized test. You should write a GRE waiver request letter sample if you want to enroll in any master's degree. However, for an MBA; it is better to write a GMAT waiver letter as GMAT is specifically designed for business students.
What should I include in my GMAT waiver letter?
You should add your academic and/or career background, and any other information that may act as evidence to support your request. You should also include the reason why you are writing the letter and your signature at the end.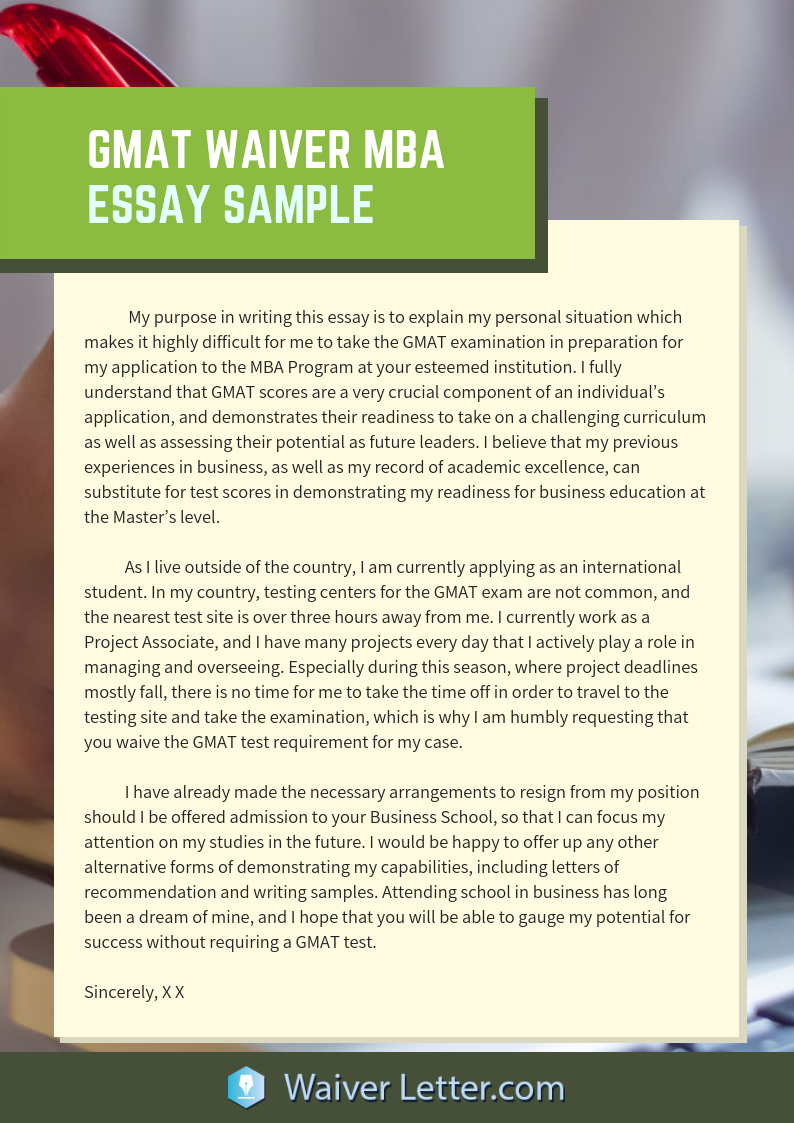 Tips for the GMAT Waiver MBA Applicants
If you have to write a waiver letter, you should be aware of the requirements you need to address. Asking for a GMAT waiver MBA or asking for writing a liability waiver can be tricky. Thus, ensure you include all the necessary information the admission board is looking for that will help them decide to grant you your request.
If you do not want to present your GMAT® scores, or if you simply do not want to take the test, you will need to provide strong evidence that will grant you that request. For starters, if you have already been working in the field, you will need to include proof of your career background. Mention your position and your duties.
Another requirement is to add proof of your career progression. You can talk about your internship or your job, and how it helped you learn and acquire specific skills for the business field.
The following are 10 tips that MBA applicants can use when requesting a GMAT waiver:
Check with specific institutions for criteria to be eligible for a GMAT waiver. MBA program applicant should determine if the meet eligibility guidelines before submitting a GMAT waiver letter. Every program determines the eligibility requirements they want to use.
Write the MBA GMAT waiver request letter using a business letter format, unless the particular program requests another format. The greeting you use should address a particular person if possible. If you are unable to get a name, address the person by title or position. Avoid using "To whom it may concern" and other similar terms to open your letter.
The introduction of your letter should state your reason for writing, which is to request a GMAT waiver. MBA program applicants should have met eligibility requirements for a waiver before writing a GMAT waiver request. An overview of the particular criteria that qualified you to request a waiver should also be included in the first paragraph.
Make sure to discuss specific aspects of any professional work experience that match up with the skills the GMAT is meant to demonstrate. Work experience that displays the quantitative and analytical skills needed to process and evaluate information and apply the results to management decisions is exceptionally helpful.
Provide specific examples that show how you have demonstrated a particular skill. Examples help to support your claim that you possess a particular skill. A statement that lacks any evidence to support it is not going to be considered near as strongly as one that you have given specific examples for.
To apply for an MBA with GMAT waiver, it is essential that you convince admissions that you have the skills that the GMAT is intended to identify. Target two or three of the most important skills and focus on those. It is better to highlight a couple of important skills than to cover a dozen inadequately.
Use a clear and concise style of writing when preparing your letter for GMAT waiver. MBA program applicants only have a few paragraphs to convince admissions officials they have earned the right to have GMAT requirements waived. It is important that you be easily understood and that you get directly to the points you are trying to make.
Don't exaggerate your accomplishments in the GMAT waiver letter. Overstating your qualifications can come off as bragging and may also be found out. At the same time, don't be shy about stating your accomplishments. Point out the things you have done that match what they are looking for.
Stay focused while writing the letter requesting a GMAT waiver. MBA programs are looking for specific skills. No matter how great an accomplishment was, if it doesn't contribute to your purpose of convincing admissions you have the skills they are looking for it shouldn't be included.
Revise and proofread until your GMAT letter of waiver for MBA application is as well polished as you can make it. At this level spelling mistakes and grammatical errors are unacceptable.
Use these 10 tips when requesting a GMAT waiver for MBA application.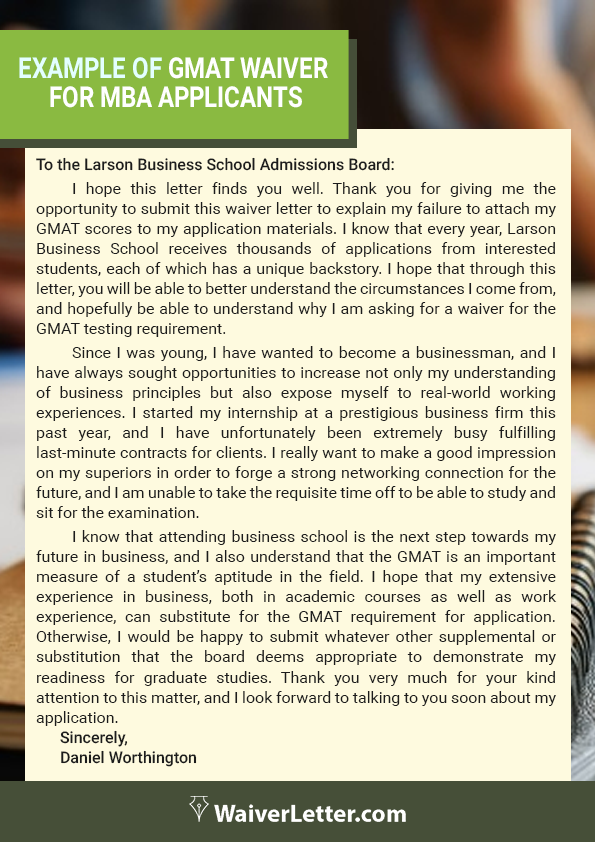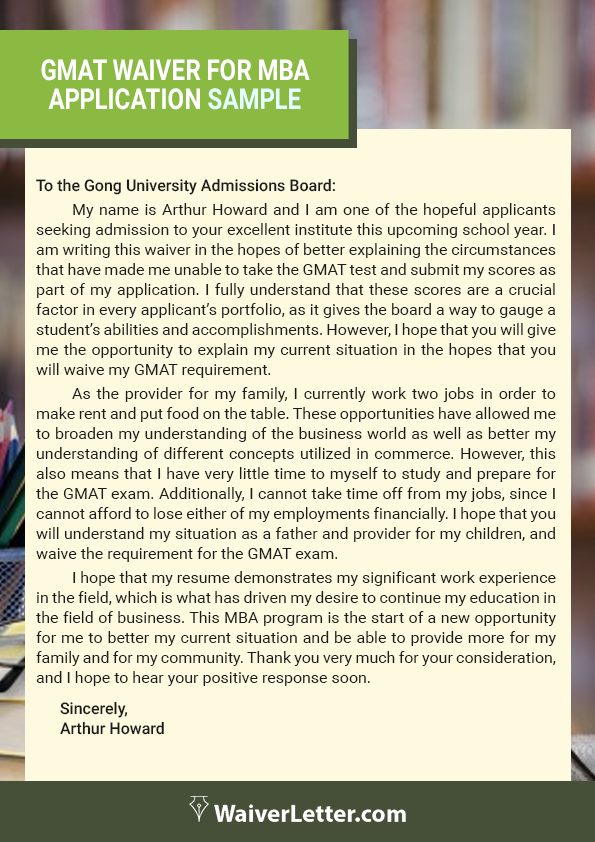 GMAT Waiver MBA Writing Template
An MBA GMAT waiver letter template is a sample that you can use as a guide when writing your waiver letter. A well-written template should have the following structure:
First paragraph:
In the introduction, you will have to mention your request, but do it briefly. Write about why you are writing the letter, what is your request.
Second paragraph:
Talk about your academic and career background and how that helps you to acquire the knowledge you are required to have to enroll in the course. State why should the academic board grant you a GMAT waiver.
Third paragraph:
Provide evidence of your achievements, like certificates or awards. If you do not have any paper you can use, write about the courses you have taken or names and dates that can help you back up your argument.
Fourth paragraph:
Thank the reader for taking the time to read your letter.
Signature:
Sign your letter.

Common Universities We Write the Waiver Letters For
Our expert writers can compose UNC MBA GMAT waiver as well as waivers for other universities with no hassle at all. These are the names of universities for which we write the best waivers with no hassle. The waiver letters are tailor according the criteria of university and needs of the clients.
Rutgers MBA GMAT waiver
ASU MBA GMAT waiver
Georgetown MBA GMAT waiver
USC MBA GMAT
Harvard MBA GMAT waiver
UCLA MBA GMAT
UIC MBA GMAT
Staford MBA GMAT

About Our Goals and Waiver Writing Help
Our expert writers are local English speakers with advanced ranges and enjoy running with waiver letters. We provide waiver letter writing offerings for any cause. The team of highly expert writers and editors leave no stne unturned to deliver what you actually want. We work hard to make your assignments worth to consider. The writers have years of experience in this field. Their experience can be seen i their work. So, you need to give us a try for sure. Our main goals are:
Satisfaction of the client: We guarantee on-time replies and more than one revisions until you're absolutely satisfied.
Original waiver letters: Our experienced specialists write particular waivers that may be without difficulty examined for plagiarism.
Availability: Our customer service representatives can be reached 24/7 so you can area your order at any time.
Reasonable rates: Our aggressive charges comply with our customers' expectations and are lower than our what competition provide. Hire us now!
If you encounter difficulties writing your MBA GMAT waiver, contact our waiver letter writing service and one of our experts will provide the assistance you need!