GRE Waiver Request Letter Eligibility
Many graduate degree programs require that you include your Graduate Record Examination (GRE) scores as part of the application package. GRE scores provide admissions officials with a means to assess an applicant's ability to successfully complete the program applied for. However, there are cases where admissions might consider waiving the GRE requirements if the applicant can display that they have the necessary skills and abilities the GRE scores are intended to demonstrate. Most programs have criteria requirements that must be met before you will be eligible to even be considered for a GRE waiver. Requirements vary from program to program but are usually similar. If you meet the institution's eligibility requirements you may then submit a GRE waiver letter requesting the GRE requirements be waived. Being eligible for a waiver does not guarantee that it will be granted. It only means that your request will be considered.

The following are some examples of criteria that may make you eligible for a GRE waiver:
Possess at least 10 years of professional experience in your field
Have previously achieved an acceptable score on the GRE but it was more than 5 years ago. (GRE scores from within the past 5 years are good)
Have a graduate level degree from another institution with a superior record in graduate-level work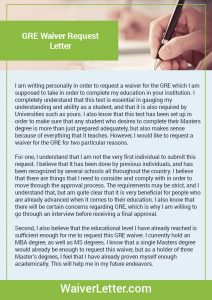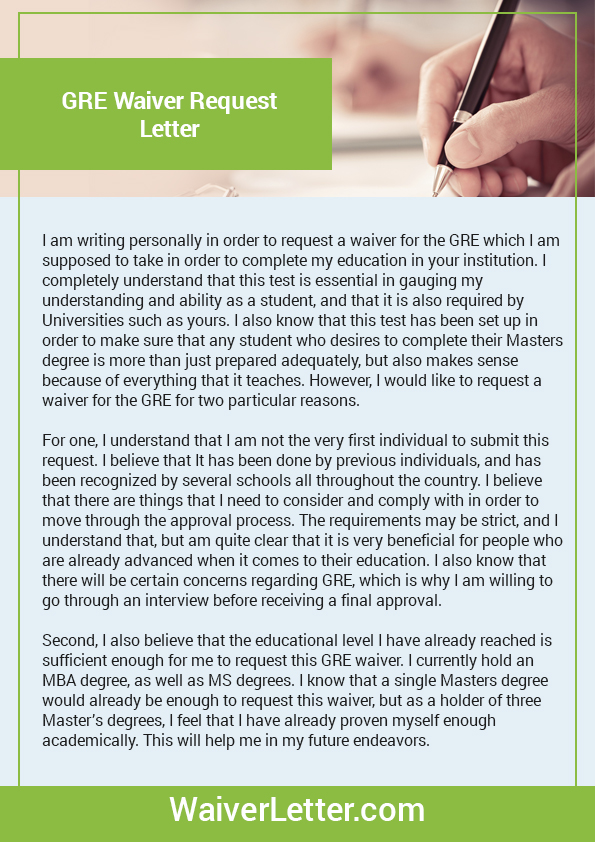 How to Write the GRE Waiver Letter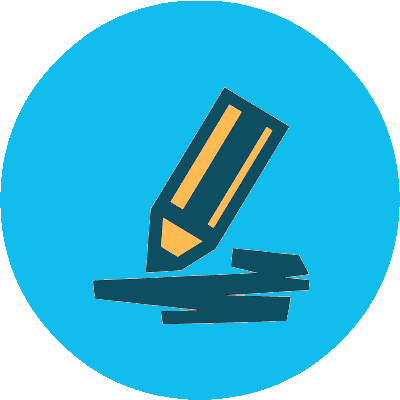 To improve the chances of a GRE waiver being granted, your GRE waiver letter must convince admissions officials that you have the same skills and abilities that the GRE would demonstrate if you did take it. Unless otherwise instructed, the GRE waiver letter can be written in a business letter format. The following is a basic outline of how to structure the GRE waiver letter and what should be included.
First paragraph: State that you are requesting that the GRE requirement be waived and provide an overview of the criteria that make you eligible for the waiver
Body: The body should consist of two to three paragraphs. You should discuss the last 10 years of your work experience that relates to the skills assessed by the GRE or the past 5-10 years of any graduate-level research you have been involved with, depending on which particular criteria you have met. Include specific examples that show how you have demonstrated certain skills. You can't cover everything so choose two or three particular skills to focus on, that would be considered the most desirable for the particular program.
Conclusion: Thank the letter recipient for their time and for considering your request for a GRE waiver.
Don't forget to revise and proofread both GMAT waiver letter and a GRE waiver request. If you are considering requesting a GRE cost waiver you should be aware that the graduate programs are not the place to make these requests. That is a different letter completely. If you are having problems with the GRE waiver letter you may want to consider using the waiver letter writing service we provide.

Interesting Facts about Low GRE Score
The Graduate Record Examination, also called GRE, is a standardized exam taken by students looking to apply for a postgraduate study in the United States and other countries. There are actually several sections to take note of in the tests and we'll discuss here.


Interesting Low GRE Score Statistics
A US citizen average a score of about six (6) points lower on the Math subject and six (6) points higher on verbal, as compared to other non-US citizens.
China records a higher Math average score at 162.9, no other countries average higher than 160.
New Zealand applicants record the highest GRE score for the verbal test, 157.3
Engineering majors rank highest in terms of average in math, 158.9
Art and humanities majors rank highest for verbal tests, 156.5, and then an AWA score, 4.1
What Is the Average GRE Score by Intended Graduate Majors?
Business majors, 152 on math, 149.5 on verbal
Education majors, 147.3 on math, 149.5 on verbal
Engineering, 158.9 on math, 148.7 on verbal
Humanities and art majors, 149.2 on math, 156.5 on verbal
What Are the Average GRE Scores for Top Programs?
Engineering
For engineering, Princeton reports an average of 161V and 162Q for admitted students.
For Harvard, the average for engineering program is 161V, 4.3 AW, and 165Q.
USC, on the other hand, reports an average of 155V and 159Q for engineering
Psychology
UCLA recommends scores between 162-164 V, 4.5-5.0 AW, and 161-163Q
UC Berkeley average 161 V, 161 Q and 4.5 AW in its psychology program.
The University of Minnesota reports an average of 160 V and 156 Q
MBA
Average applicants to the Yale School of Management scores at least 160 V and 162 Q.
At Iowa's Tipple School of Management, it reports an average of 153 V and 153 Q.
At Wharton School of U Penn, the average score is 162 V and 167 Q.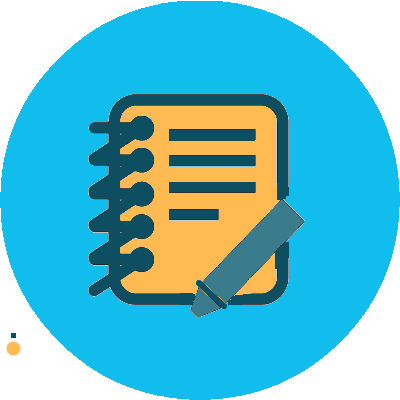 If you are looking for an impressive waiver letter, then go ahead and place your order available at a 25% discount. Use the code GRE25 today!
Our GRE Waiver Letter Writing Services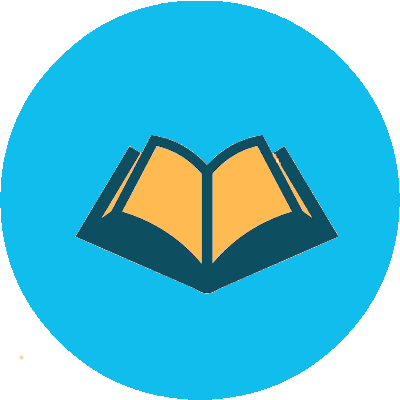 There are many reasons for using our service to request a GRE waiver. Some of the advantages of using our service include:
Original GRE waiver letter that written by a professional writer who has extensive experience with the GRE waiver process
Guarantee of complete customer satisfaction and on-time delivery with every letter we write.
Live customer support 24/7
Complete customer confidentiality
For a GRE waiver letter that makes a good impression and improves the odds of your request for GRE waiver being approved, contact us to provide all of your GRE waiver letter needs!