ACT Registration Fee and Other Concerns
If you're concerned about taking the ACT, whether because you don't need to or because you can't afford to, there may be hope. ACT waivers are available for both the fee and the test itself. To claim this waiver, however, you'll have to write a letter explaining your circumstances. Here are our best tips for making it stand out. Additionally, you can check out our college board application fee waiver.
What Is the ACT?
The ACT is among the most popular tests for college admissions in the United States. It consists of four sections: reading, writing, mathematics, and science reasoning. Each of these is ranked on a 36-point scale, and a composite score is then given averaging the skills. There is an additional optional writing section which some universities may require. It's available at multiple times during the year worldwide and is an important part of admissions to an American university. If your circumstances allow a waiver of the fee or the test, here's how to get one.

Structure of an ACT Letter
Follow this simple outline and you'll have a great ACT waiver letter by the time you're done.
First, write your date.
Skip down two lines, and list the name and address of the person you're writing to.
Two more lines down, write a greeting – generally, 'Dear [Name],'. Don't use 'to whom it may concern' – it makes a bad impression.
Skip down a line and write your introduction, stating why you're writing the letter and what your request is.
Skip down one more line and write your body. This should be one or two paragraphs with supporting details for your request.
Add one more short paragraph thanking the reader for their time.
Skip two lines and add a closing such as 'Sincerely' or 'Regards'.
Four lines below, type your name. Print the letter and hand-sign it in those four lines.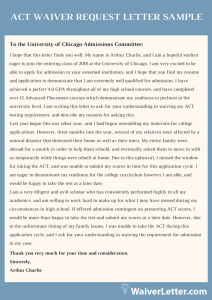 Tips for ACT Waiver Letter
We have gathered the following act tips for successful college admission application fee waiver writing:
Create an outline: This helps you be sure you're in the right direction. You're welcome to use the one we just gave you.
Be concise and complete: Don't include too much detail, but don't leave out important stuff, either.
Be upfront: State the most important information first.
Get it proofread: You want to look professional, not sloppy, so get someone who can read the letter over and catch mistakes.
Understand requirements: Make sure you know whether and why you're eligible for a waiver before you write.
ACT Fee Waiver Help
It's a scary business, writing a waiver request. If you write your PET waiver or another letter by yourself, you may be uncertain about how to start and unsure of when you've done a good job. While these tips can help, we understand a real live person is more useful. That's why we have a staff of professional writers to help you along. Choose our services to help with writing n ACT college fee waiver because:
We provide unique waivers every time, no plagiarized or standardized simplified texts
We are available at any time – our customer support team works 24/7
We create customized waivers that tell our client's story
We provide urgent deliveries if needed
We have the proven our reputation in writing waiver letters over the years, most of the writers have been working here for at least 3 years.
For the best ACT waiver letter help, contact us now and let us ease your stress!