Why May You Need a Waiver Letter for School?
A letter of waiver for school is a kind of letter that is used to verify that someone has waived one of their rights, asking for something to be waived, like tuition fees etc. or that they wish to be excluded from an activity that has been organized for a certain lesson. Your waiver should explain in a clear and easy to understand way what you are requesting as the recipient needs to know what you are asking to have waived.
Just because you have written and sent a letter of waiver for school, it doesn't mean that your request will be automatically given. It needs to convince the recipient that there is a legitimate reason why the requested waiver letter for school should be granted by stating a valid reason for granting your request.
What Information Should Be Included in Your Letter?
Many schools will have their own form of waiver letter for school that comes as a school waiver form that should be completed by the parent or legal guardian and then signed. It is still a good idea to include a waiver for school in the form of a cover letter to the school waiver form as this adds a personal approach and can explain in detail any reasons you have.
Before you start to write, you should start thinking of what to include in the waiver letter for school and how to write a waiver letter for school. There are numerous samples and example letters you can look through online to get an idea, but in general, you should start by:
Checking eligibility: Every school has its own set of guidelines of eligibility which must be taken into consideration when addressing any waiver for school requests. Before writing a waiver letter you need to understand those terms to determine whether or not you qualify.
Explaining the request: Start the letter with an explanation for the request. State why you are requesting your child to be excused from a lesson or why they need to be released from school.
Providing additional information: Any further information you can supply. This can include anything that pertains to the main request.
Include supporting documents: Send the letter with an appointment slip, doctors letter etc. that may support the requester waiver.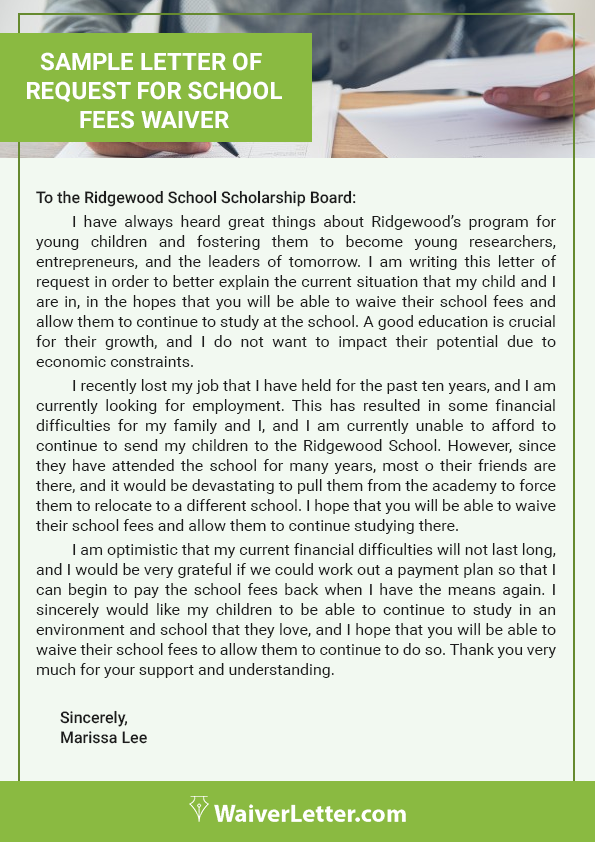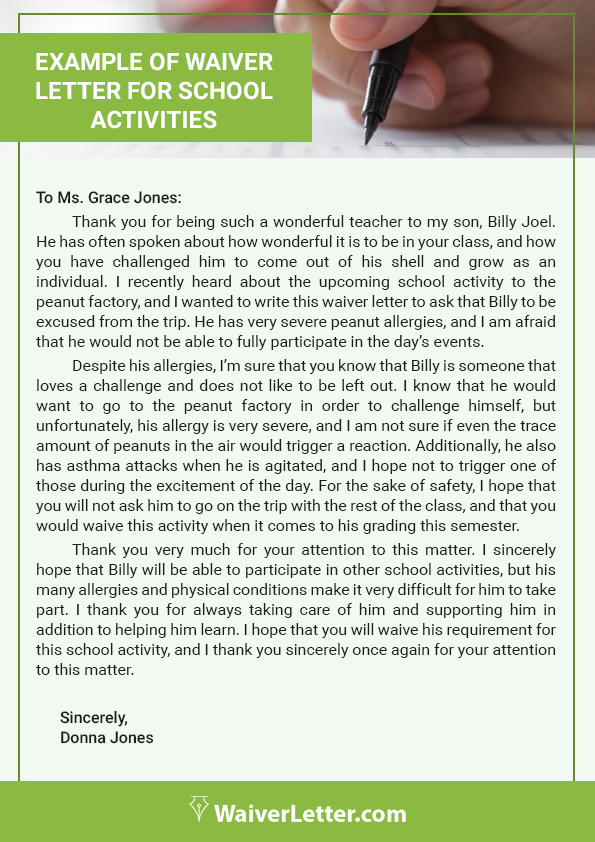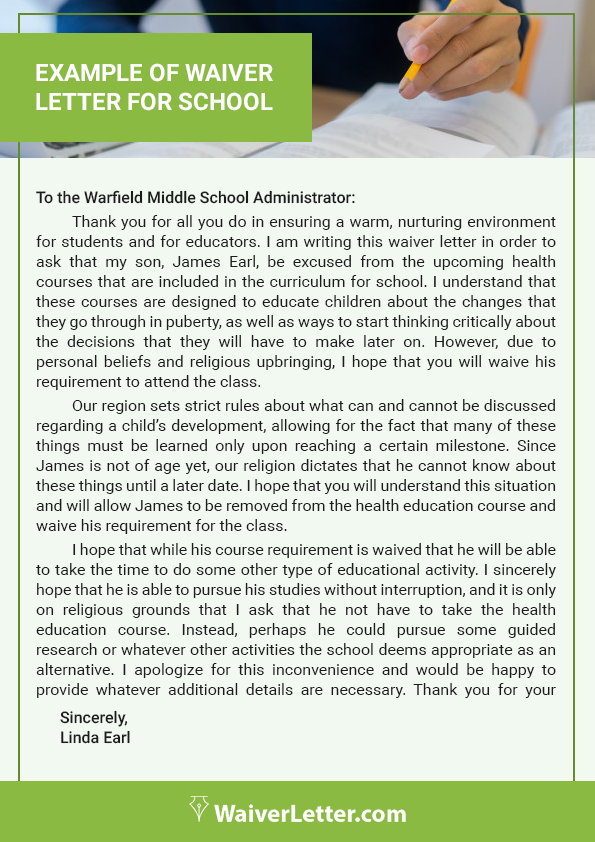 How to Write a Waiver for School
As with all forms of official letters, a waiver letter for school should follow a certain format which helps it to look much more professional and which shows the recipient that you are to be taken seriously. How to write a waiver letter for school? Although each waiver for school form may be different in its presentation, it will still be professional presented which is how your school waiver form needs to be also:
Start with the Date
Skip 2 lines then write the Name & Recipient Address
Salutation/ Greeting
Skip a line and write why you are asking for the waiver
Skip 2 lines and include a closing statement
Skip 4 lines then include your name and sign
If you want to know how to write a waiver letter for school, we will give you some tips. There are a few things you should need to pay attention to when writing a waiver letter for school. Ensuring you do it, will help you deliver an excellent waiver letter and make sure your request is granted.
For starters, when writing a school waiver form, you should pay attention to your language. Writing a waiver letter as if you were writing to your best friend will not help you. You need to respect the person who will be reading it, and use formal language. If you do not know how to write in legal contexts, at least make sure you do not use any slang or contractions.
You also need to explain why you are writing a waiver letter. Is it because you are going on a school trip, or you need to take a test. Whatever the reason may be, make sure you describe it and include strong arguments to support your request for a school waiver form.
Want to Know More?
How should I write a strong waiver letter?
If you want to write a strong waiver letter you will have to do some research in advance. A strong waiver letter characterizes for using formal language, following a basic structure, and including persuasive arguments.
What should I include on a strong waiver letter?
You should include any evidence that may help you with your request. This can be names, dates, courses, medical certificates, banks statements, etc. You should also include the reason why you are writing a waiver letter for school and strong arguments that support your case.
Can I use a template to write a waiver letter?
Yes. In fact, using a well-written school waiver form can help you ensure your waiver letter includes all the relevant points.
What type of language should I use in my waiver for school?
Since it is a type of proper written communication, you should use formal language. But make sure you choose the right words, your waiver letter for school should be persuasive to convince the reader.
Can someone help me write a personal waiver letter?
Yes. You can look for professional help to write your waiver for school. You will only need to make sure you tell the writer everything about your waiver letter – what are you requesting and why – so they can write a compelling waiver letter.
How to Write a Waiver for School: Expert Tips to Create a Strong Waiver
Wondering how to make a waiver letter for school? We will share with you some useful tips. Make sure you follow them to ensure your waiver letter is impeccable. Check our tips:
Follow a basic structure. Open your waiver letter with the reason why you are writing it, continue describing your reason, include some evidence, and acknowledge the reader. These simple steps will help you write a coherent letter.
Take care of your language. A waiver letter should be written using proper language. Choose your words wisely.
Do not forget to proofread your waiver letter. People usually forget about this last step and it is crucial to ensure your letter is well-written, persuasive, and coherent. It will take you a few minutes to revise it.
Remember to support your request with persuasive arguments. You have to convince the reader to grant you what you are requesting. However, make sure you are not begging for it as it will not help you with your case.

We Can Provide You with Professional Help
Our professional team of expert writers is specialized in waiver letters and school waiver form. They have many years of experience writing different types of letters. Our rockstar team can help you write and edit your waiver letter, if you don't know how to write a waiver for school they can help. Plus, they will make sure they tailored your letter to your needs.
To ensure you are satisfied with your letter, you will have to tell our writers all your requirements. They will make sure they follow them all and include all the relevant points you ask them to.
They will then revise it to correct any mistakes they may have made, and edit your letter in case it needs a few arrangements.
Once you receive your waiver letter, you can ask for unlimited revisions. We will go the extra mile to make sure you are happy with your waiver letter and that you feel confident about it.
As mentioned before, we can help you with any type of waiver letter you may need. The most common ones our team works with are: GMAT®, GRE®, MCAT®, LSAT®, IELTS®, SAT®, PET, ACT, TOEFL®, CLEP®, VISA, and Fee waiver letter, to name a few.
We know how hard it is to write any kind of official looking letter which is why we will supply you with a professional writer who has many years of experience in all forms of formal writing and who understands exactly what schools are looking to be included in a waiver letter, they know how to write a waiver for school. Included in our services, you will benefit from:
24/7 friendly ordering and customer support
An individual waiver letter tailored to your needs and format f.e. GRE cost waiver
Error-free writing that includes professional proofreading
Affordable prices with flexible discounts and no hidden extras
Free unlimited amendments
On time delivery
100% full satisfaction money back guarantee.
So for the number one service in providing a waiver for school, get in touch with our friendly support services now for a service that you can trust and afford!