What Is the IELTS?
The IELTS strikes fear into the hearts of thousands of students worldwide. This English language exam can be enough to discourage anyone from studying abroad. The expense and the hassle are immense. However, if you qualify, you can write a letter to get the fee or even the test waived. The international English language testing system is the most popular way of testing English proficiency around the world. If you intend to study or work in an English-speaking country and are not yourself a native speaker, there's a very good chance that you will need to take this exam. The test is scored on nine bands and test-takers are ranked from 1 (non-user) to 9 (expert). All standard varieties of English – include New Zealand, Australian, North American, and British English – are accepted. If you're certain you'll be a nine, here's how to write a waiver letter for ILETS exam (the tips below will work for a TOEFL waiver too).
IELTS Waiver Request Letter Sample as a Guide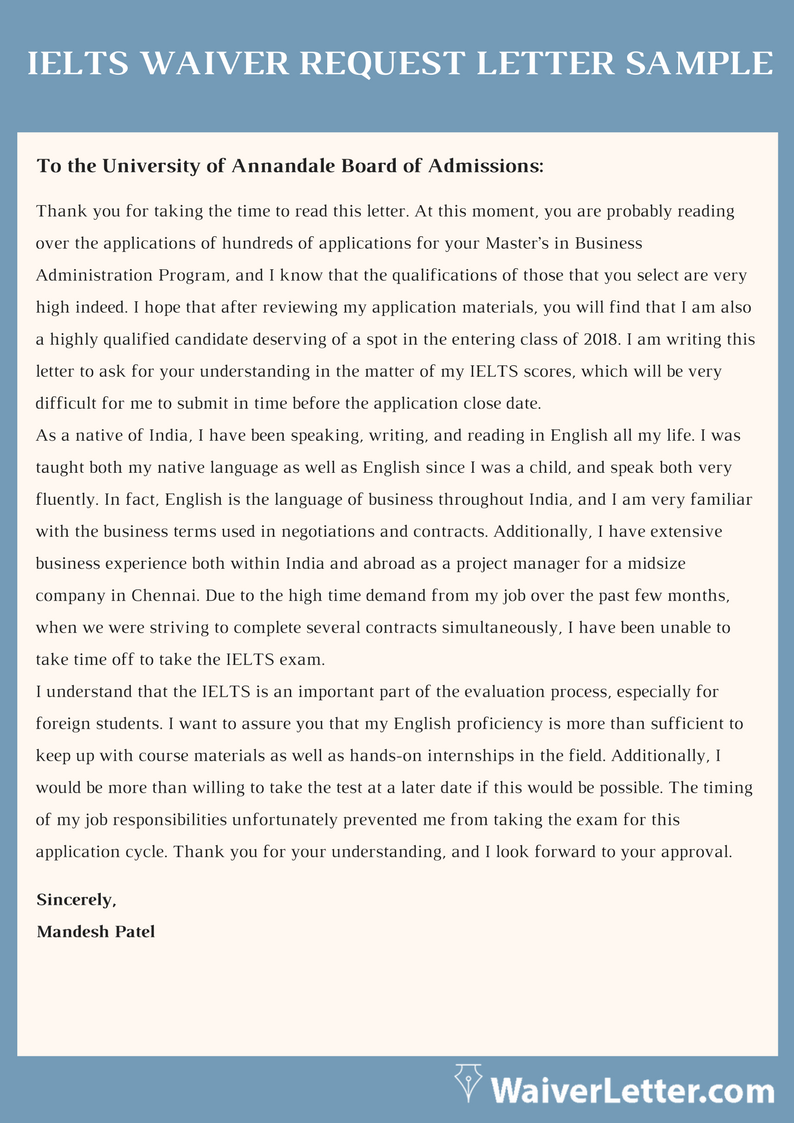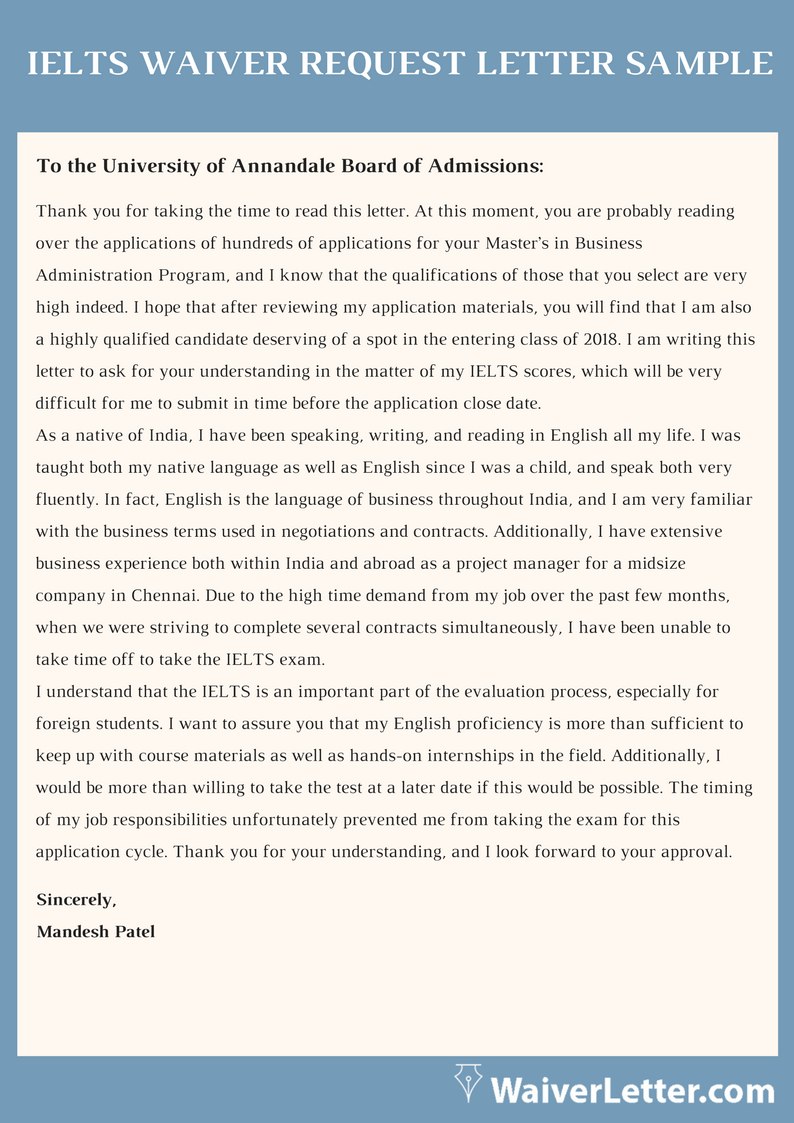 The following points and IETLS fee waiver letter structure is reflected in the above sample:
For best success with writing your IETLS letter, use this simple guide.
Write the date, then skip two lines.
Write the recipient's name and address.
Two lines below, add a greeting (Dear [name], for instance).
Write an introduction, in which you include the reason you are writing and your basic request.
Add a body paragraph or two with supporting evidence.
Add another short paragraph thanking the reader for their time.
Skip two lines, then add your closing (Regards, sincerely, or another similar formula.)
Type your name four lines below the closing. Then print and sign your name under.
Click here and learn how to write GMAT waiver MBA in the best way!

Tips for Your IELTS Waiver Letter
Structure it beforehand: Write yourself an outline with all those parts we just gave you. Then you just have to fill it in.
Be concise but complete: Include all the important information, but leave the irrelevant details out.
Find out who you're sending to: 'Dear Mr. Jameson', for instance, looks a lot better than 'To Whom It May Concern'.82
Get it proofread: You obviously don't want to make a mistake that leaves a bad impression on the reader. Present your best face by asking someone to look over it for you.
Important things first: When writing your letter, add the most important information, like your request and your main reason for it, at the top of the body or in the intro. Don't make them hunt for it.
Getting the Best IELTS Waiver
Writing a good IELTS waiver letter is definitely something that is difficult to do on your own. That's why we're committed to offering you help. We want you to succeed, and so we provide many services that can help you with your letter. Whether it's writing one for you in close consultation with you, or giving you tips on the structure and proofreading your result, we've got you covered.
The waiver letters are written for taking the consent regarding any specific purpose. It can give you success that you probably never think of getting in such a short span of time.
Have a look at these reasons to trust our services:
Following latest IELTS waiver letter request examples to compose yours;
Timely submission
Guarantee of quality a
Making revisions as many times as you want as per the requirements.
If you urgently need an IELTS waiver letter, contact us now and let us help you.