Why Would You Need a US Citizenship Waiver?
Many people applying to the US for citizenship would like to know if they can get it processed for free using a citizenship waiver. The answer is, in fact, yes as long as you are suffering some form of financial hardship that prevents you from being able to pay all of the related fees. There are many different areas of your application for citizenship that require fees to be paid.
You can apply for those fees to be waived using form i-912 accompanied with your request and all of the required supporting documentation. You must provide your request for waiving any fee at the time of filing any other form; you cannot request that fees are waived at a later stage.
If you are struggling to write your essay explaining low gpa, you may find here some useful tips.
What Is a 601 Waiver?
Another waiver that you may require is the waiver of inadmissibility to the US. This is required if you have overstayed within the US for more than 180 days to overcome any bars to your return to the country. This is typically applied for after you have left the US and had your interview for your immigrant visa at the relevant consular office.
You can also apply for a provisional unlawful presence waiver before you actually leave the US; this has been enacted to prevent close family members being separated from their families within the US for too long.
As with all other immigration applications the $930 fee can be waived by you apply for a fee waiver when you make your application by using form i-912. This form and all of your supporting paperwork must be submitted along with your i-601 application form and will not be accepted at a later date. Observe 3 steps for preparing an approvable immigration waiver here.
Citizenship Fee Waiver Letter Sample to Learn From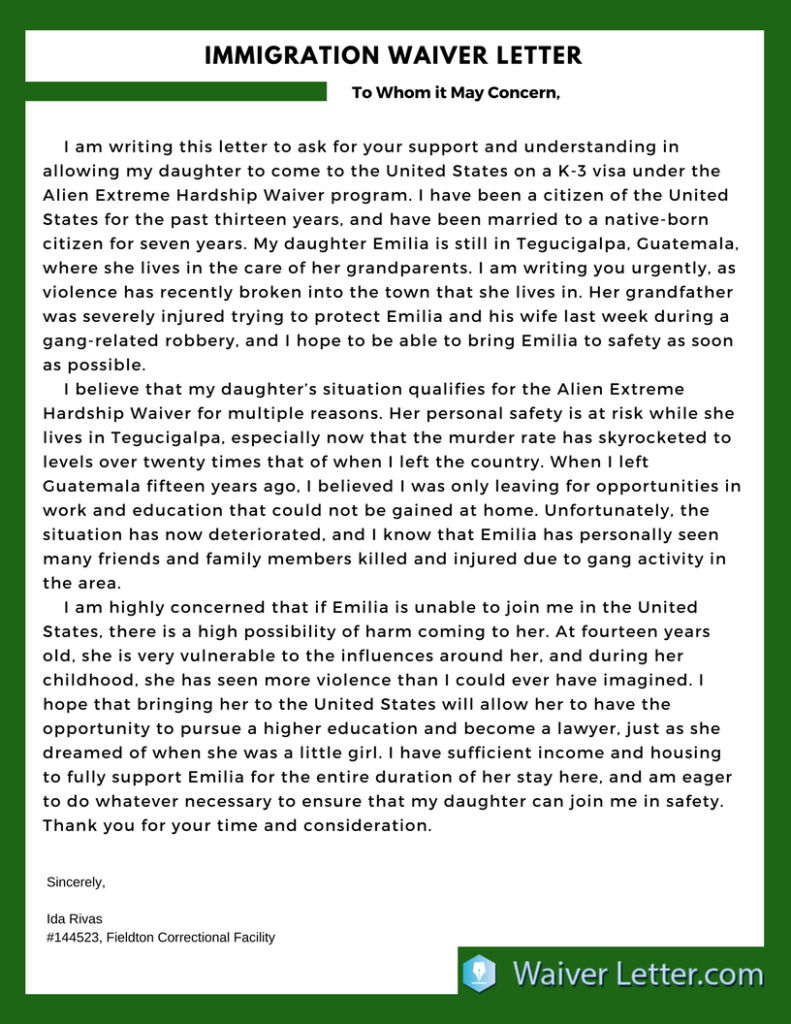 The following are some form i-912 instructions and guidance to help you to understand how this citizenship fee waiver letter sample was made. Fee waivers are eligible for anyone that is applying and that is suffering some form of financial hardship and therefore cannot afford the required fees. As general guidance, the following areas will qualify you to apply for a fee waiver although they do not guarantee that you will gain one. Each application if considered on its own merits. The following circumstances will be considered for a fee waiver:
You, your spouse, or the head of the household are in receipt of some form of means-tested benefits such as Medicaid.
If your total income is less than 150% of the Federal Poverty Guidelines when you make your application.
You have some form of financial hardship that makes it impossible to pay the fees such as unexpected medical bills and other emergencies.
What Can Your Waiver for Citizenship Cover:
Applying for citizenship does not involve a single fee. The whole process will require you to submit many different forms during your citizenship application. Many of these fees can be waived through the use of an i-912 waiver request. This will be accompanied by your supporting letter and relevant documentation to support the request.
The following are just some of the petitions and applications that you can use an i-912 request with:
Biometric services fee required along with your provisional unlawful presence waiver application form i-601
Replacement of a Permanent Resident Card – form i-90
Notice of appeal to the board of immigration appeals EOIR – 29
Application for travel document i-131
Application for a passport or Visa i-193
Application to register permanent residence or adjust status i-485
Application for employment authorization i-765
Application for certification of citizenship N-600
Application to preserve residence for naturalization purposes N-470

These are just a few of the applications and petitions that you can be required to make. For a full list, you should look at the US Citizenship and Immigration Services website or talk to one of our specialists for citizenship application assistance.
You can see also what an immigration waiver is, and what else you should know about it.
Required Documentation to Request Your Waiver
The i-912 form along with your supporting letter should be sent with the relevant application form that you are seeking a waiver for such as the i-601. The i-912 will require the following supporting documents:
Official documentation showing that you are receiving any means-tested benefit.
Proof of income for applications based on being below the poverty level figure; IRS 1040.
Details of any other financial hardship that you have and the accompanying evidence. Attach an affidavit from a member of your community in good standing to support your request.
If evidence is lost you should include the police or fire department report.
Where Should You Send Your US Citizenship Application Waiver Request?
There is no one address that your i-912 should be sent to. The waiver request must be sent through the post not electronically and should be sent to the address listed on the specific form that you are seeking a waiver for. Note that your supporting evidence will not be returned in most cases so be wary of attaching originals.

Writing a Citizenship Waiver Letter
You can submit a letter in place of form i-912 and it is good practice to provide a formal letter even if you have completed the form to clearly show what your request is and how you are eligible. The following guidance will help you with writing your waiver letter for citizenship:
Always use a formal business style format for your letter to present yourself professionally.
Begin your letter by clearly stating who you are and that it is a request for a fee waiver.
Provide the reader with a clear reason or reasons as to why you require a fee waiver that meets their expectations.
Provide them with evidence to support your reasons for claiming a fee waiver.
Ensure that you proofread your letter so that there are no errors and sign it
We Can Help with Your Waiver Application for Citizenship
Ours is a highly specialized service that is provided through consultants that fully understand the USCIS process and requirements. They will be able to advise you as to your eligibility and provide you with all of the help with filling out all waiver requests such as i-912 and i-601. We can also help with all supporting letters and with gathering all of the required supporting evidence to support your claims.
Our services come with a full satisfaction money-back guarantee and will always be delivered on time to a high standard. If you need professional and reliable help with your citizenship waiver just contact our highly qualified and experienced specialists here today.