The Law School Admission Test (LSAT) is an important part of the admissions process in law schools in the US and other countries because such an exam, no matter you got high or low LSAT, becomes one of the basis of the admissions committee in taking you in or not. Now, the question might be having on your mind right now, "How do I write an LSAT waiver letter?" Check out the following for your guidance.
LSAT Waiver Letter Sample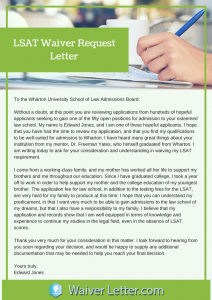 A sample waiver is good to learn from, however, you should keep in mind the fact, that each waiver for LSAT should be featuring your story and, thus, cannot be simply copied. Before you get down to a sample of LSAT waiver letter, get acquainted with the before-you-write tips:
Before you can write your LSAT waiver letter, understand that institutions have their specific set of requirements in terms of LSAT waiver. In some universities, you can apply for waiver but you should have a good GPA like 3.0.
Some applicants can have their requirement for LSAT waived if they already have professional or research doctorate degree, or if they are applying after the completion of their master's degree.
Some schools can also allow waivers if an applicant can give evidence that he has received good results on one version of the test more than five years ago.
LSAT Waiver Letter Writing Help
When writing your request for LSAT waiver you should first talk about your academic and professional experience. This should be included in your statement to convince them to permit you with this LSAT waiver. You should also be able to talk about the relevant research industries that you have worked into within five to 10 years to highlight your preparation for graduate study and your quantitative or verbal abilities.

Part of this LSAT waiver tips, you should remember to accompany the written statement with your waiver request application form, together with your transcript of records to verify degrees you are holding. Also, include copies of your current license, certifications and resume.
Need help with GMAT waiver MBA? Here is what you need to know!
Every waiver is considered on a case-to-case basis; therefore, it does not mean that you can automatically be approved if you meet the requirements. You should also check specific deadlines as programs and institutions vary.
There you have some of the tips we've shared when writing a waiver letter for LSAT. Follow them and ensure that you include these pointers in writing for the best results.
If you still need help with your LSAT waiver, feel free to get in touch!