The Law School Admission Test (LSAT) is an important part of the admissions process in law schools in the US and other countries because such an exam, no matter you got high or low LSAT, becomes one of the bases of the admissions committee in taking you in or not. Now, the question might be having on your mind right now, "How do I write an LSAT waiver letter?" Check out the following LSAT waiver letter writing help for your guidance.
What Is LSAT Waiver?
If you are applying for law school, you will have to present the score you got on your LSAT as part of your application. But, if you do not want the admission board to take it into account, or you do not want to take the test – either for personal reasons or health problems – then you can write an LSAT waiver letter for low LSAT. This type of letter is a kind of written communication where you ask the college admission jury to waive your LSAT requirement.
A waiver letter should include strong reasons as for why you do not want to present your LSAT score – you cannot say that you don't like tests and expect them to approve your request. An LSAT waiver letter should be written in formal language following a simple format so that the reader can be persuaded by your request. Remember to use catchy phrases while treating the reader with respect. At the end of your letter for low LSAT, you can mention that you have attached hard copies from medical certificates, for example, and that you want to use them and our LSAT waiver letter writing help as evidence in your case.

Here Is the Guide to Write a Winning Waiver
Can I write a waiver letter if I have a low LSAT?
Yes, you can write one. In this case, you will have to state why did you get a low score on your LSAT. We can provide you with LSAT waiver letter writing help.
Can a professional writer help me with my waiver letter?
Sure! Of course, they can. In fact, we provide an LSAT waiver letter writing help to assist you with your letter.
What should I include in my waiver letter low LSAT?
You should include the reason why you are writing your letter, as well as strong arguments and evidence that will support your request.
How should I write my waiver letter?
You should write it using formal language and persuasive sentences. Also, you will need to make sure you follow a basic structure.
What is the difference between an LSAT waiver letter and an LSAT fee waiver letter?
While both of them have some similarities, they are looking to waive a requirement, the first one is aimed at your LSAT score. While an LSAT fee waiver letter is written to request an annulation of the LSAT fee.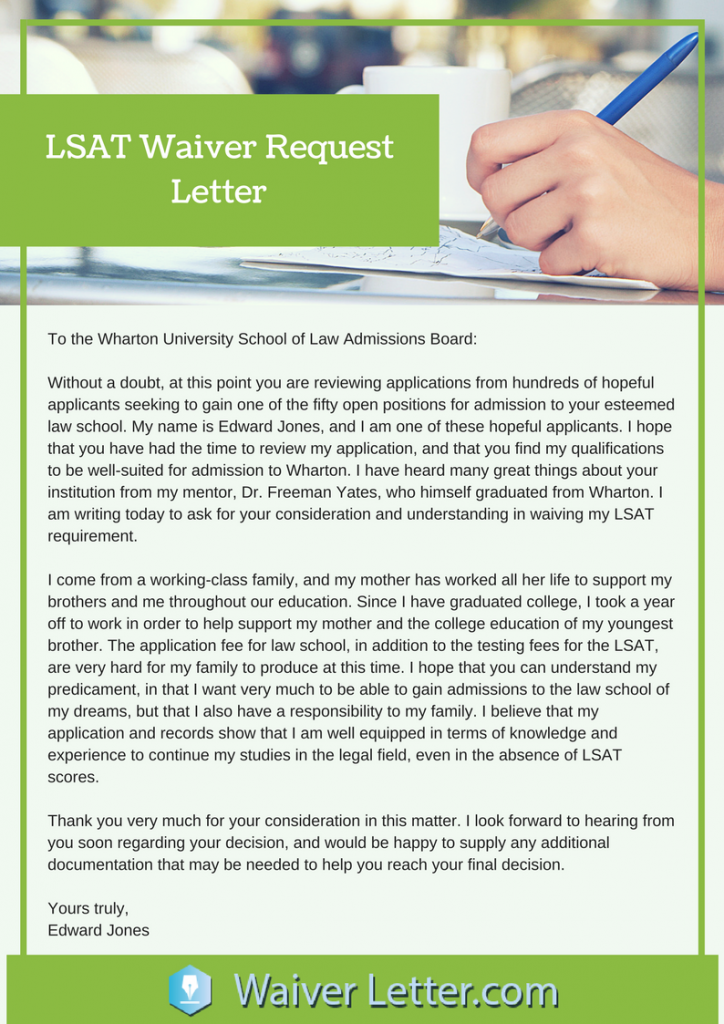 How to Write an LSAT Waiver Letter
When writing a waiver letter, especially one to waive your LSAT requirement, you will need to follow a basic structure. Take a look at the format you should use:
First paragraph. In the opening paragraph, you will have to state the reason why you are writing a waiver letter. But be brief. Mention why do you want your LSAT requirement to be waived.
Second paragraph. Here you will have to elaborate a little bit more your request. Include strong and persuasive arguments that will help you make a case.
Third paragraph. After you have stated the reason why you need your LSAT requirement to be waived, mention any evidence – like names, dates, personal issues, medical problems, etc. – that will help you support your argument.
Fourth paragraph. Remember to acknowledge the reader and thank them for taking the time to read your waiver letter.
Sign your letter, and proofread it before you send it.
LSAT Waiver Letter Sample
A sample waiver is good to learn from, however, you should keep in mind the fact, that each waiver for LSAT should be featuring your story and, thus, cannot be simply copied. Before you get down to a sample of LSAT waiver letter, get acquainted with the before-you-write tips from our LSAT waiver letter writing help:
Before you can write your LSAT waiver letter, understand that institutions have their specific set of requirements in terms of LSAT waiver. In some universities, you can apply for a waiver but you should have a good GPA like 3.0.
Some applicants can have their requirement for LSAT waived if they already have professional or research doctorate degree, or if they are applying after the completion of their master's degree.
Some schools can also allow waivers if an applicant can give evidence that he has received good results on one version of the test more than five years ago.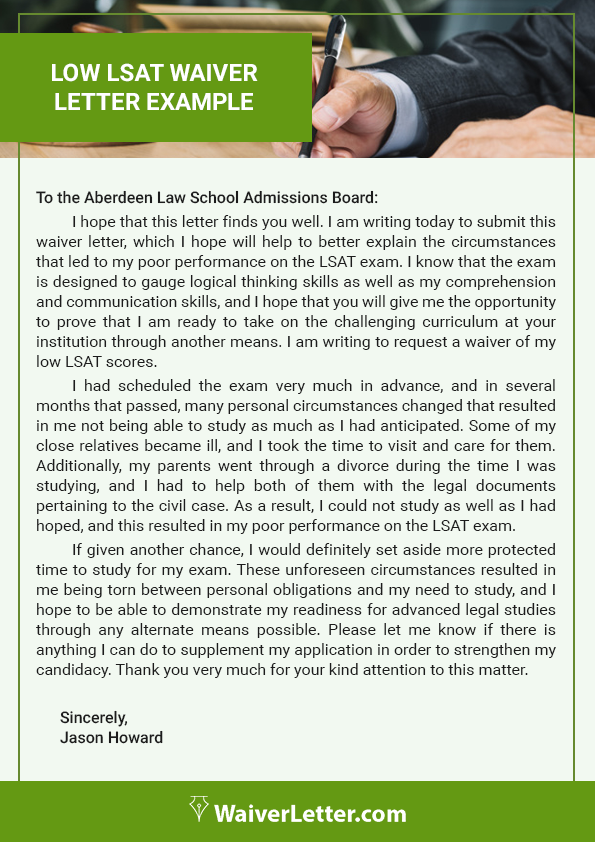 To ensure you write a winning waiver letter, you will need to follow some useful tips. Check out these helpful tips from our expert writers:
Use an LSAT waiver letter sample as a guide. Before you start writing your letter, you can look for a well-written and persuasive waiver letter. Use it as a template and see how the writer structured the sentences.
Use formal language. Since you are addressing an academic board with your letter, you cannot use informal language to write it. Respect the reader and make sure you demonstrate that you can link sentences coherently.
Explain why you are writing a waiver letter. Describe why they should waive your LSAT requirement. Explain what events in your life prevent you from getting a high score or taking the text.
Remember to prove your argument. You can use names and dates, or medical certificates, to raise your case.
Do not forget to proofread your letter once you have finished writing it. This will demonstrate the admission board that you take care of the little details.
LSAT Waiver Letter Writing Help
When writing your request for LSAT waiver you should first talk about your academic and professional experience. This should be included in your statement to convince them to permit you with this LSAT waiver. You should also be able to talk about the relevant research industries that you have worked into within five to 10 years to highlight your preparation for graduate study and your quantitative or verbal abilities.
Part of this LSAT waiver tips, you should remember to accompany the written statement with your waiver request application form, together with your transcript of records to verify degrees you are holding. Also, include copies of your current license, certifications, and resume.
Need help with GMAT waiver MBA? Here is what you need to know!
Every waiver is considered on a case-to-case basis, therefore, it does not mean that you can automatically be approved if you meet the requirements. You should also check specific deadlines as programs and institutions vary. There you have some of the tips we've shared when writing a waiver letter for LSAT. Follow them and ensure that you include these pointers in writing for the best results of the low LSAT.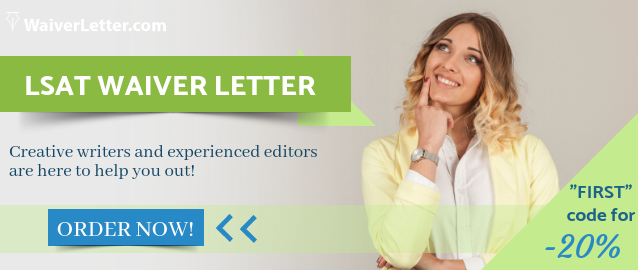 Make Sure to Get the Best Writing Help Online
We have a fantastic team that helps us provide high-quality results for the low LSAT. Want to meet them? Check out some of their traits:
Our team is composed of writers, editors, and customer support for the best LSAT waiver letter writing help. Our three departments work together to guarantee we deliver top-notch service.
Our professional writers are specialized in different fields. This ensures we can help you write any type of paper you may need.
Thanks to our team, we can provide a writing service, as well as an editing service. Our professional editors will revise your letter to make sure it is perfect.
Our support team is customer oriented. They work around the clock to make sure they are always available for you.
Our expert writers are also specialized in the waiver letter. They will always deliver original letters tailored to your needs.
We will always provide the best waiver letter writing service you can find for the low LSAT. There are many things that make us leaders in the field of LSAT waiver letter writing help. You can check some of our strong features and benefits here:
Unlimited revisions. We know how important customer satisfaction is, so we will revise your waiver letter as many times as you request to ensure you are happy with it.
Additional research if it is required. If you feel that there should be more information in your letter, we are happy to do some extra research.
Money-back guarantee. We will work hard to make sure you are happy with our work. However, if this is not the case, we will transfer your money back.
Customer support 24/7. Our friendly customer support is always available to you. You can reach them by phone, send them an email or chat with them through our site.
If you still need help with your LSAT waiver, feel free to get in touch!