PRAXIS Registration Fee
Praxis tests are expensive. Not everyone has the money to spend on them, especially recent graduates who aren't certified yet. So what can you do? It's possible to apply for a fee waiver statement. If you qualify, you must write a letter explaining your circumstances. Writing this letter is tricky if you've never done one before, though, so we are here to offer you some advice on getting it right.
What Is a PRAXIS Test?
A Praxis test is a teacher certification exam in the United States, administered by the Educational Testing Service. It is usually required for teacher certification. There are a number of subject areas depending on what the teacher in question is planning to teach. If you need to avoid the hefty fee for your required Praxis exam, here's how to write a convincing waiver letter.
We have listed five frequently asked questions people make when writing a PRAXIS waiver letter. Make sure you read them all, you may find the answer you were looking for here.
How can I write a strong PRAXIS waiver letter?
If you want to write a strong waiver letter, you need to use persuasive language. However, make sure you do not include any slang on your letter as this can have adverse consequences on your request. Using a template may help you write a strong letter. Look for a well-written one and use it as a guide.
What should I include on my fee waiver letter?
If you are requesting a PRAXIS fee you should include copies from your bank statement, and proof that you are an undergraduate or graduate student.
Can I apply for a waiver on one of the PRAXIS subject assessment?
Yes. You can apply for a fee waiver on one of the subjects.
How many times can I send a PRAXIS waiver letter?
You can only present it once during a testing year.
Can I hire a professional writer to help me with my PRAXIS waiver letter?
Yes. In fact, hiring a professional writer can ensure you send a strong waiver letter.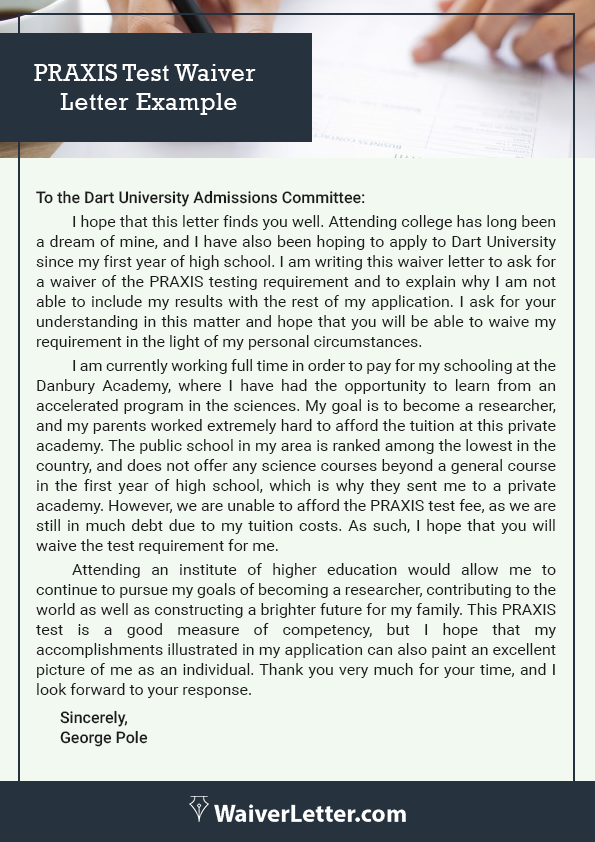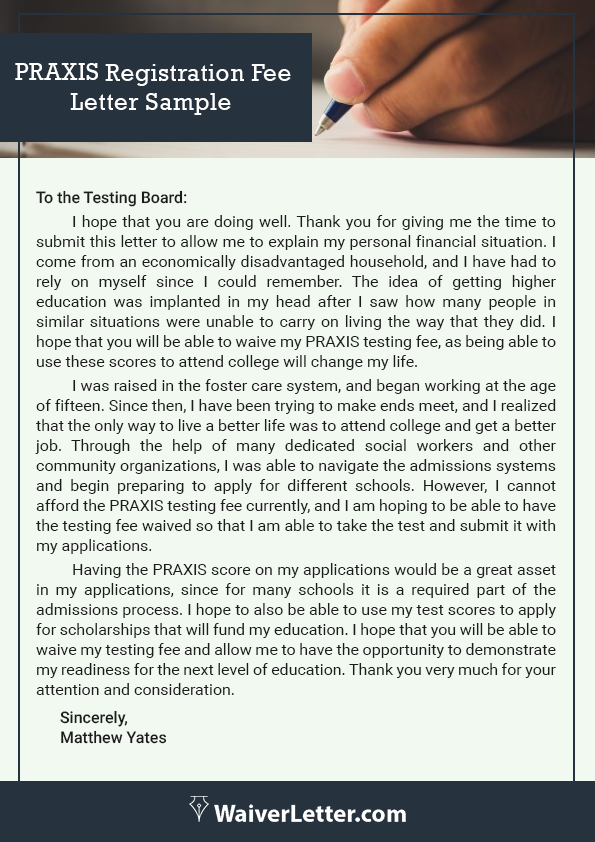 How to Write PRAXIS Test Waiver
Writing a waiver letter is a tedious task. There are a lot of things you need to pay attention to, plus, make sure you meet all the requirements to ask for a PRAXIS registration fee waiver. You have to be enrolled in an undergraduate or graduate course. Otherwise, you will not be granted a fee waiver. Also, you should be receiving financial aid and meet the eligibility income requirements – this will depend on how many family members live in your house and the general income you have.
Follow this structure and you'll have a solid PRAXIS waiver letter to work with.
Write the date and then skip two lines in a PRAXIS registration fee.
On this line, write the name and address of your recipient.
Another two lines down, write a greeting.
Start a new paragraph and write an introduction stating why you're writing and what you are requesting.
Next, write one or two body paragraphs with supporting evidence and arguments.
Finish up with a short paragraph thanking the reader for their time.
Add a closing such as 'Best regards' or 'Sincerely'.
Type your name four lines down, then print your letter. Sign your name in the gap and you're good to go.
PRAXIS Waiver Writing Tips
Knowing how to write a perfect PRAXIS waiver letter can help you get what you want. We have listed a simple guide with useful tips that you can follow when writing your PRAXIS registration fee waiver letter. Check them out:
The first rule when you have to write a waiver letter is to know exactly why you are writing it. You should be able to explain why you are requesting a waiver and be able to provide evidence.
Paying attention to the language you use is another useful tip. You need to express yourself using formal language and be respectful to the reader. You cannot use slang or contractions when writing your waiver letter.
Remember to use strong arguments. When writing your letter, you should choose carefully the arguments you want to include. They should be persuasive and powerful.
Do not forget to thank the reader for their time. At the end of your PRAXIS test waiver letter, include a sentence where you acknowledge the reader and thank them for taking the time to read your letter.
Revising your waiver letter is vital. Before sending your letter, read it several times. Proofreading it can save you from a devastating consequence.
Also, you should pay attention to these guidelines:
Be short and sweet: Include the important stuff, but don't put in a lot of irrelevant details. Less is more.
Structure it right: The best thing to do is find a template or use an outline. That way you don't have to worry about formatting.
Important details first: Right out of the gate, state the most crucial facts in the PRAXIS test waiver. Who are you? Why do you need a waiver? Why should you be given one? Add the supporting stuff farther down.
Present your best face: Have someone look over your letter to be sure you don't have any mistakes.
Use names: Don't address the letter to 'Sir or Madam' or some other vague salutation. Find out who will read your PRAXIS registration fee letter address it to them directly.
As a bit of additional expert advice, we recommend that you hire a professional writer to help you with your PRAXIS test waiver letter. Even if you write your letter on your own, having a professional editor to proofread it can do wonders. They say that four eyes are better than two, and you will benefit from it if you hire a professional writing service. An expert writer can make sure you have included all the relevant points, and that you have used strong and persuasive arguments to explain your case.
Plus, an expert writer will go through your letter as many times as you need until you feel confident enough to send the PRAXIS registration fee waiver. Just make sure you contact a professional with experience writing waiver letters. This will ensure you deliver a strong and impeccable one.
Avoid PRAXIS Fees Now
It's important that you write your fee ACT waiver letter in a timely fashion. However, we know that this can be difficult. We believe that good teachers should have all the help they can get on their journey to the classroom, so we want to help. We are a professional writing service who can assist you at any stage of your letter writing process. Let us facilitate this stage of the journey for you.
Our writing professionals will go the extra mile to make sure you are happy with your PRAXIS registration fee waiver letter.
They will follow your requests and tailor your PRAXIS test waiver letter according to your needs.
You will receive a personalized 100% original waiver letter.
Our professional writers are specialized in a wide range of fields so we can help you write different waiver letter.
From academic to legal to financial waiver letters, our writers are here to help. Some of the most common waiver letters we work with are: GMAT, VISA, GRE, LSAT, TOEFL, ELTS, SAT, PET, ACT, MCAT, CLEP, and Fee waiver letters, to name a few.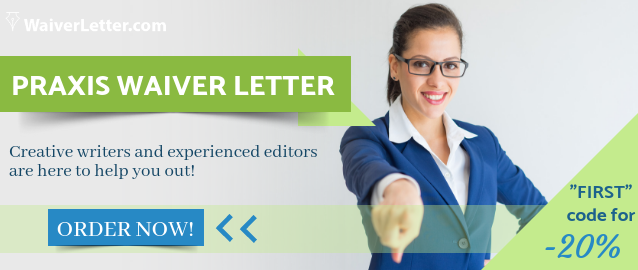 Our Expert PRAXIS Waiver Help
We take pride in what we do, and it is easy for us because of the rockstar team of professionals we have. Check some of their amazing traits:
We have a team of writers, editors, and customer support
Our writers and editors have many years of experience in PRAXIS registration fee waiver writing
Our professionals are specialized in different fields
Thanks to our team, we can provide writing and an editing service
We only work with reliable professionals to ensure you receive your PRAXIS test waiver order on time
Our trustworthy team will always treat your detail confidentially
Our support team is customer oriented
Our customer support department works around the clock and you can reach them by phone, char, or email.
Our professionals will go the extra mile to ensure you are happy with your waiver letter
Our writers will only deliver personalized letters tailored to the customer's needs
If you're looking to get a PRAXIS waiver, you can't do better than our service – contact us now!