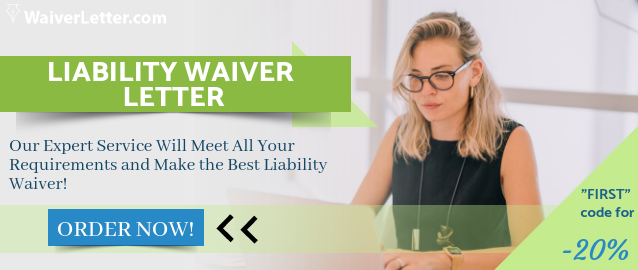 What Is a Liability Letter?
Liability letter or is an important document like PRAXIS test waiver too, which verifies that a person or a company has waived its right. In other words, it is an agreement between a person or a company or service provider, where the individual relieves the company of responsibility or duty. This letter is used in different places and may need to be produced in law courts as well. So, it's very important to write it properly.
Writing a liability waiver is not easy. The content of the letter is different in different situations and everyone cannot write it properly. Majority of the people lack writing skills and are unable to write this kind of technical letter. Some others find formatting of the letter difficult. Moreover, a liability waiver letter is different than any other letter, variation in content make things difficult. Sometimes one has to use some technical language, depending upon the situation, which makes writing a liability letter even more difficult. It should be properly written and must have signatures of the concerned authorities and persons.
Basic Components of Liability Waiver
Liability waivers are of different types. Usually, companies write to them when someone kind of risk is involved with the services they provide or the products they sell. When they are not ready to take any responsibility, they write liability letters. Here are some basic components of liability waiver.
Specify. When there is a risk in any activity to have to specify what is the risk involved and who should be careful. Moreover, use language like" included but not limited to" it will be helpful for both parties.
Be clear. Use simple language, which is easy to understand for the participants, for whom you are writing this letter. Avoid the use of technical language, if necessary, explain difficult terms.
Mention additional information. If you are providing any other document or instructions for the safety or security of your clients, mention them in personal training liability waiver.
Severability. This letter can be used for legal purposes as well. You have to mention that if a part of this letter found to be invalid in court, the rest of the letter and its other provisions will remain valid.
You can read a liability waiver example, which will help you to understand it better.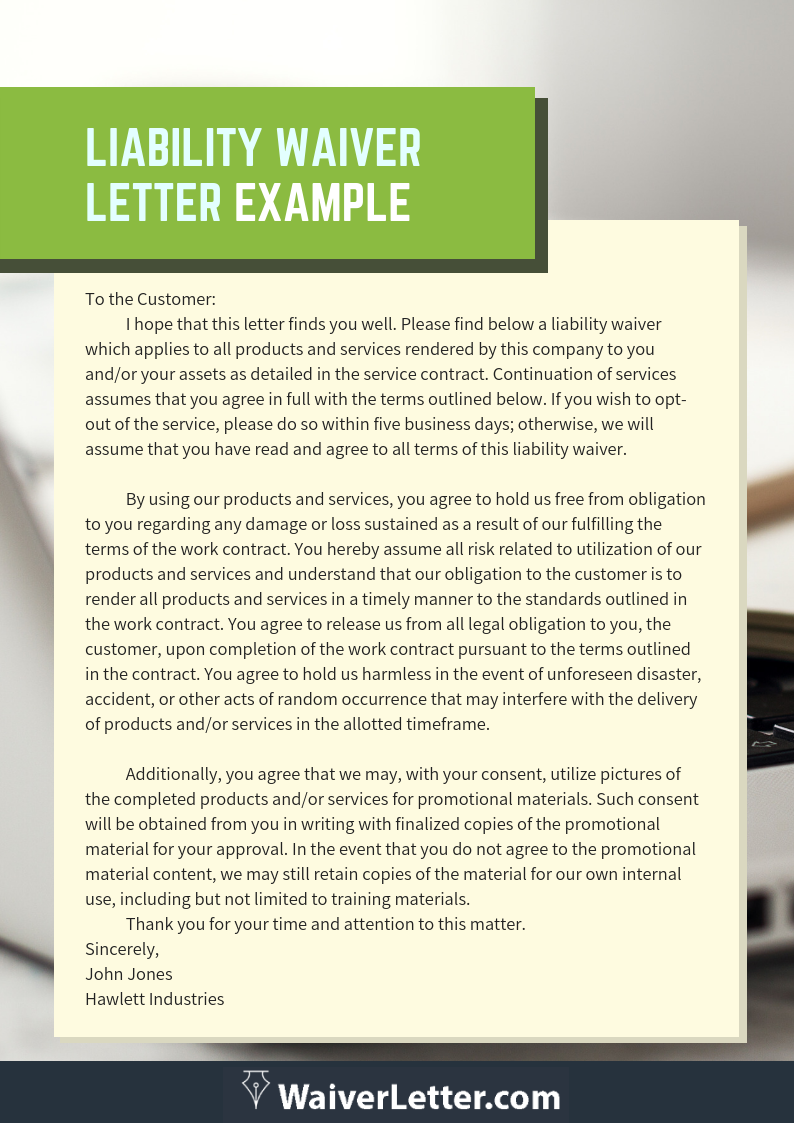 Does a Liability Waiver Still Have a Value?
Yes, a liability waiver is a valuable document. It provides information to the people, who are using the services of a company that what are the risks involved with this particular activity and they should remain careful about that. It is useful when you need to produce it in a law court. However, it cannot save a person or company if they are accused of some serious negligence. But liability waiver is useful for both, company and client, as it makes them more aware of their rights and responsibilities and helps to avoid accidents, as both parties remain careful and vigilant.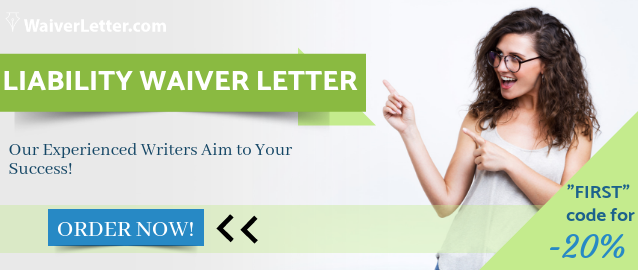 Efficient Tips to Power Your Liability Waiver
Writing a waiver and liability statement is not easy. Here are some tips, which can make your waiver more powerful.
Clear language. Use clear language, which you cannot read without the help of your legal advisor and your clients can also understand it easily.
Readable. The printing or writing of the letter should be easily readable. Sometimes very small font is used or it's badly printed, these things should be avoided.
Complete information. It should provide enough information. Incomplete waivers are of no use for anyone.
Contact information. It is not possible to mention all the risk in a letter, so it's better to provide your contact information. Clients can call you in case of any question and you have to provide them with honest answers.
Length. Keep release of liability statements short. Try not to exceed them more than 5 pages. In some situations, it's not easy, but keep them short.
List all related laws. Consult your lawyer and enlist all the related laws, related to your business.
Get it signed. Get the letter signed by all the clients or participants and ask them to write this letter before they sign it.
Different Types of Liability Waivers
There are different types of liability waivers. Here we are mentioning a few.
General liability waiver
It is a common waiver when a person gives up all claims against another company or service provider. It the basic type of liability waiver and a comprehensive one to handle most of the situations.
Mutual liability waiver
When both parties, involved in an agreement, give up their rights, it is called a mutual liability waiver. Most companies use this waiver to end a contract on their own terms.
Accident liability waiver
In case of a road accident, this liability waiver is used by both parties. They agree not to sue each other and leave the matter.
Property liability waiver
When someone damages personal or real property, this property liability waiver is used. Parties agree to settle the dispute outside the court. It is also called as a property damage release form.
Personal injury waiver
When a person gets injured, he agrees not to take the case to the court. Usually, the agreement is settled for some money or any other valuable thing.
Activity participation waiver
This waiver is used when a service provider does not take responsibility for any injury, which may occur as a result of a particular activity.
Contractor liability waiver
When a contractor does not take the responsibility of any damage in his constructed building, a contract liability waiver is used. When the construction phase ends, the contractor provides this waiver.
NASM Liability waiver
NASM liability waiver is used to get sports-related medical protection. Self-employed personal trainers use this type of liability.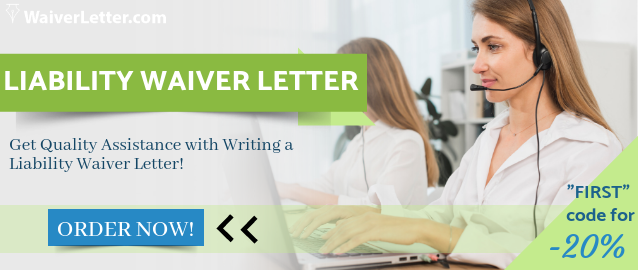 6 Most Popular Mistakes That People Make While Writing a Liability Waiver
When you have to write a waiver of liability statement, you can make some mistakes.
Usually, the date from which the document will be effective is not mentioned in it.
It is not mentioned in the document that an individual is responsible for his own health or property insurance.
Some people copy reference letter for immigration waiver from a website or a template, which is a big mistake. Do not copy any waiver, write your own.
Sometimes people make a big mistake, not to get the document signed from the concerned parties.
Not involving or consulting a lawyer is a mistake. You have to know the legal requirements in a particular situation.
If parties mutually agree to make changes, they should be documented as well. Sometimes changes are agreed but not made in a document, which leads to lots of confusions.
Our Service Benefits to Explore
We offer to write waiver letters for our clients. If you need LSAT waiver letter writing help, we can write that too. We have some unique features like:
Round the clock customer support. Our customer support is very friendly and is ready to help you round the clock.
Affordable prices. Our services are available at very affordable rates.
High-quality papers. You cannot give us a low GPA essay example, we write high-quality papers of our clients. Our writers are well qualified and well trained to fulfil the demands of our clients.
Writing a liability waiver is not easy. If you are struggling let our writing experts help you. Contact us today!