CLEP Fee Waiver Help for You
If you have significant knowledge in a certain area, shouldn't you be given college credit for it? The College Board agrees, and that's why the CLEP exists. Taking a subject test in an area you know can earn you credit and save you time and money. However, if you can't afford the fee, you can write a waiver letter to request an exemption. Let us guide you through this process.
What Is the CLEP?
The College-Level Examination Program, shortened to CLEP, is an American exam that allows you to earn college credits without taking classes. Adults just entering or returning to school, military personnel, and traditional university students are all candidates for the exam. Here's how to write a fee waiver letter if you qualify for it.

The Structure of a CLEP Waiver Letter
How can you structure your waiver request? Follow this outline and you'll have a solid letter.
Write the date you are composing your letter.
Skip two lines; add the name and address of who you're sending it to.
Skip another two lines. Write your greeting, such as 'Dear [name]'.
Go to the next paragraph and write an introduction. State your name and why you're writing.
Add one or two body paragraphs with your supporting evidence.
Finish up with a short paragraph thanking your reader for their time.
Skip two more lines and then add your closing ('Sincerely', 'Best regards', etc).
Go down four lines, type your name, and then print it out. Sign your letter and send it!
Click here and explore all tricks of writing Praxis waiver letter!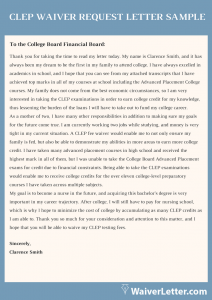 CLEP Exam Fee Waiver Tips
These five mistakes are very common when writing the CLEP waiver letter. Avoid them and your letter will be much stronger.
Too little detail: Make sure you include all the important reasons why you should be given a waiver. Incomplete arguments make you a weak candidate.
Too much detail: You also don't want to include every single little thing about your current situation. Only relevant information, please.
Poor structure: Don't make your reader wade through the least important stuff first. Put the crucial facts early in the letter and supporting evidence later.
Lack of name: Addressing a letter to 'To whom it may concern' or 'Sir or Madam' is a major faux pas. Find the right name.
Typos: A typo can completely destroy an otherwise beautiful letter. Avoid this by having someone check your letter before you send it.

How to Make a Perfect Waiver?
There's no doubt about it – the CLEP is a valuable exam. However, writing your fee waiver for school early is crucial if you plan to take it. We know what a daunting task this can be, and so we offer you our assistance. Let our staff of trained writers take on the burden of writing for you. You'll thank yourself later.
We want you to go back to us each and whenever you want help together with your writing. Our aim is usually to make certain that you may be completely glad with the writing that we offer for you. Through us, all of the help and ensures that you want with a view to with a bit of luck make your order you may continually gain from relevantly qualified and noticeably skilled writers. You want our service as a way to provide you with a author that absolutely understands what's required out of your waiver request letter and know about CLEP exam fee waiver. We can provide the first-rate due to the fact our writers are:
Reliable to provide you desired kind of work
Local english speakers from a rustic in which english is the primary language
Fully certified with a applicable better stage degree
Absolutely knows the software methods
Noticeably skilled at writing waiver letters
Is aware of how to correctly format your letter
Get a Strong Waiver Letter Written by Experts
If our samples of work and testimonails convinced you and you decided to guarantee the quality of your waiver documents, proceed by doing the following:
You could simply fill out an online shape and offer the specified info to place your order via our website.
You're now equipped to make a charge after filling out the information.
You will then get an email affirmation of your order as soon as fee is made.
Customers will have direct communique with the writer all throughout the system. All of the details you furnished in the online form will then be forwarded to the assigned writer.
You could make the effort to study and touch upon the draft and the author will ship the first draft.
If there may be none, you may get hold of the final draft if there are revisions wanted, you may request for revisions.
For the best value on CLEP fee waiver letters, contact us now and experience the benefits of professional service.