GMAT Waiver Letter Sample Below | Expert Waiver Guide
Order Now


"Please help! How do I explain why I am seeking a GMAT waiver?"
What Is and How to Get a GMAT Waiver?

Before learning how to write the GMAT waiver letter, it is important to know what the GMAT is. It stands for Graduate Management Admission Test, which is an exam that is designed for students that want to take up a Master's degree in a Business Administration program. The score is an important factor used by business schools in determining whether an applicant meets the requirements in order for them to qualify for admissions. It's three and a half hour long exam that the business schools require from students, who should achieve high scores. In some cases though, students who do not perform very well in written tests or do not want to take the GMAT for other reasons will need to complete a waiver letter.
You need the GMAT waiver letter or the PRAXIS waiver, in some cases, if you are applying for a program but you don't have stellar exam scores. You don't have to worry because it also happens to other students. What to do now is act on the matter and write a convincing letter that shows you don't have to submit your scores to the committee and that you qualify to become a part of the program. See below for a guide.
In writing the GMAT waiver letter, you should first check for qualifications. If you are, however, it is not a guarantee your appeal will be approved. That is why you need to do well in the waiver letter to get the attention and approval of the committee. Online, it is easy on how to get a GMAT waiver, but if you're writing it for yourself. Here is what to remember. Make sure that you can convince the committee that you already have the abilities and skills that the GMAT would display if you had taken or even if you did but you have low scores on it. Write the letter in a business letter template – with a subject line, receiver of the latter, salutation, introduction paragraph, body paragraphs, closing paragraph, closing remark, and signature line. Check the GMAT waiver essay sample below.

Unless otherwise stated, use a business letter format. At the beginning of the GRE waiver letter, state your intention or appeal.  Then, write about your skills, professional experiences, and knowledge in the next paragraph. Next, highlight some illustrations or examples to back those claims up.  For example, write that you have work experiences highlighting the skills being measured in the GMAT exam. In the last paragraph, be sure to thank the reader for considering the request and spending time on it. Proofread and edit your paper before submission.
How Do I Write My GMAT Waiver Letter?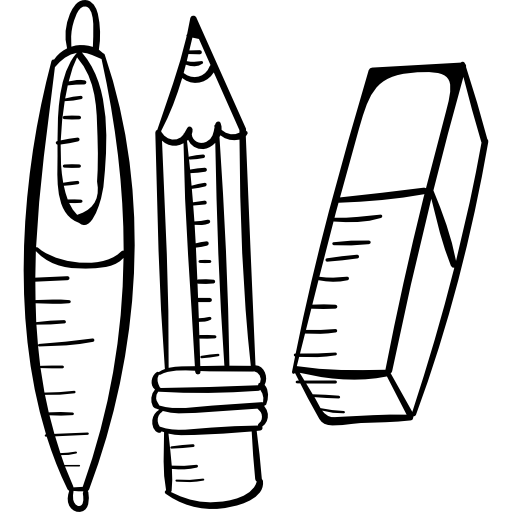 The waiver letter does not have to be fancy or long, but it does need to be meaningful and clear. like in our GMAT waiver essay sample. If you don't want to take the test and submit a test score when applying for a business administration master program, then you have to be clear on the reasons why you think you don't need to submit it to the school. The GRE waiver letter sample for how to get a GMAT waiver should be:
Name and address. Also, include the date of writing.
Subject Line. GMAT Waiver Request.
Reference line. Application to the specified program
Salutation or greeting. Dear Sir/Madam, Dear Admissions Committee.
State the purpose of why you are writing to the committee.
State your reasons for applying for a waiver. Include and be specific of the reasons you think you don't have to submit your score to qualify for the admissions.
Summarize your points. Give a final appeal to have your request approved. In the closing sentences, let them know of your interest to receive an update on whether your request is granted or not.
Sign off. Sign off the letter with yours sincerely.
Signature. Above your printed full name and check our GMAT waiver essay sample to understand better.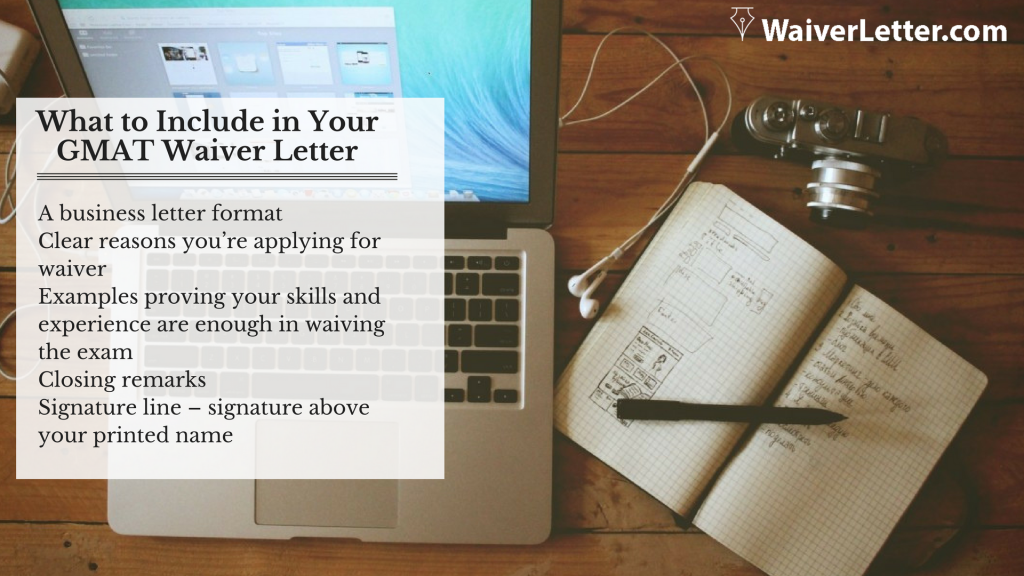 What to Include in Your GMAT Waiver Letter
A business letter format
Clear reasons you're applying for the waiver
Examples proving your skills and experience are enough in waiving the exam
Closing remarks
Signature line – signature above your printed name
Follow this GMAT essay guide on how to get a GMAT waiver and increase your chances of having your appeal approved. You can also check the GMAT waiver essay sample we've got. If you're struggling writing, don't think twice about getting help from Graduate Management Admission Test waiver letter service.
Interesting Facts about Low GMAT Score
The Graduate Management Admission Test, also called GMAT, is a standardized exam used to measure and predict how a student could perform in the Masters in Business Administration program. It is one of the indicators of how a student will succeed in the study and it is one of the major deciding factors, which the admissions used in screening their applicants. Now if you are looking for information about a GMAT score and how to get a GMAT waiver with GMAT essay, then you may want to read on and learn about some of these in the following GMAT waiver essay sample.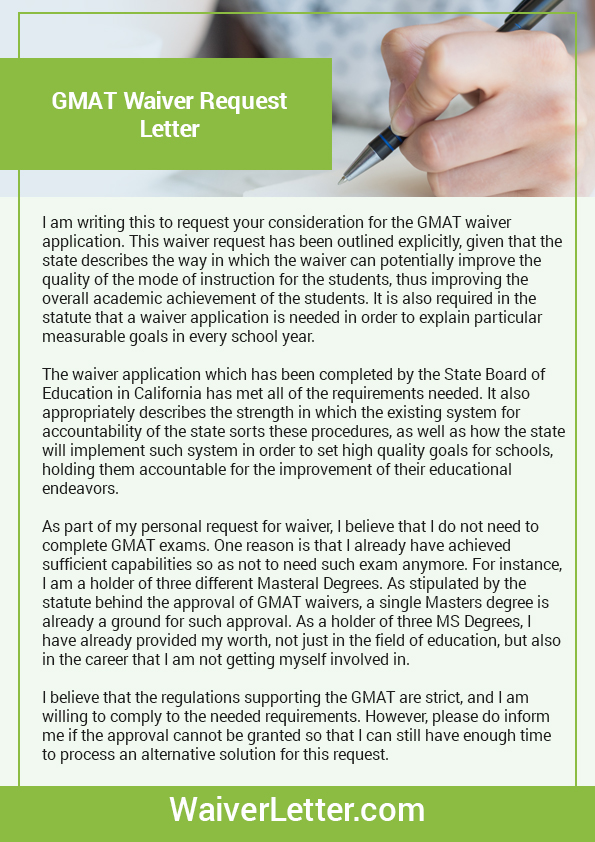 What to Know About Low GMAT Score
How does the scoring of this test work? First, remember that there is the analytical writing assignment in which scoring is between 0-6 points for your GMAT waiver for MBA, evaluating your critical writing as well as communication skills. Then, there is the integrated reasoning, which is scored between 1-8 points, measuring a student's aptitude when it comes to analyzing presented information available in various formats. Following is the quantitative test, which is rated between 0-60 points, measuring your ability to analyze as well as draw conclusions. Finally, there is the verbal composition, between 0-60 points, measuring your critical reasoning, reading comprehension and sentence correction skills.
Take note: The verbal and quantitative sections can contribute up to 800 in your GMAT score; both the scores are most valued by the committee.
Top business schools reporting increases YOY in GMAT score average
Texas Tech Rawls increasing by 36, from 523 in 2013 to 559 in 2014 followed by Alabama Manderson increases 27 from 632 in 2013 to 659 in 2014.
Top business schools reporting YOY declines in GMAT score average
Topping the list is Claremont Drucker, decreasing 32 from 609 in 2013 to 577 in 2014 followed by Tulane Freeman, decreasing 27 from 676 in 2013 to 649 in 2014.
Can I Get Help with a GMAT Fee Waiver?
There is a GMAT Fee Waiver Program that has been specifically set up by the Graduate Management Admission Council (GMAC), which allows students with financial need, the opportunity to take the GMAT for free. These fee waivers are provided to the schools who are free to distribute this help via an incentive program or directly to those students who need it most. We understand how extremely difficult it can be to write a waiver letter, especially if you are not used to or familiar with what should be written. Our professional writers have many years of experience in writing GMAT essay that include a GMAT waiver letter and are familiar with the academic applications process, they know how to get a GMAT waiver. In using our expert services, you will benefit from:
Highly affordable services with flexible discounts and no hidden extras
24/7 ordering and customer support
Professional proofreading
Uniquely written GMAT essay by highly educated professionals in any format f. e. 

college board application fee waiver, as you can see in our GMAT waiver essay sample

Unlimited free amendments
A fully confidential service
On time delivery, guaranteed every time
100% full satisfaction or your money back
You can get our strong GMAT waiver letter coming with 25 percent discount when you use the DISCOUNT CODE GME25 today!