GMAT Waiver Letter: Why You Need It
Applying to a graduate-level business program often requires submitting scores from the Graduate Management Admissions Test (GMAT) as part of the application package. In some cases, an applicant may request that the GMAT requirement is waived for their application. Requesting a waiver of the GMAT is usually done by writing a GMAT waiver letter. The GMAT waiver letter is your request to the school asking that they excuse you from having to submit GMAT scores as part of your application. Many programs have rules in place regarding this type of waiver and will grant your request if certain requirements are met. The criteria for GMAT waiver eligibility is determined by individual institutions so may vary somewhat from program to program.

The following are some of the basic GMAT waiver eligibility criteria a program may consider:
At least 10 years professional work experience
An advanced degree (masters or above) in another field
Submission of a GMAT waiver essay explaining why the requirement should be waived
Copy of school transcripts (under-graduate and/or graduate school)
To be exempted from submitting GMAT scores when applying to a program such as an MBA, GMAT waiver letters must convince admissions boards that your past academic and employment history demonstrates you already possess the skills and abilities the GMAT tests for, eliminating the need for submitting the scores.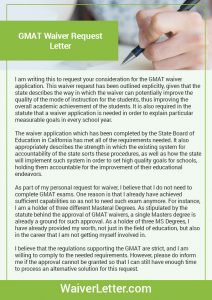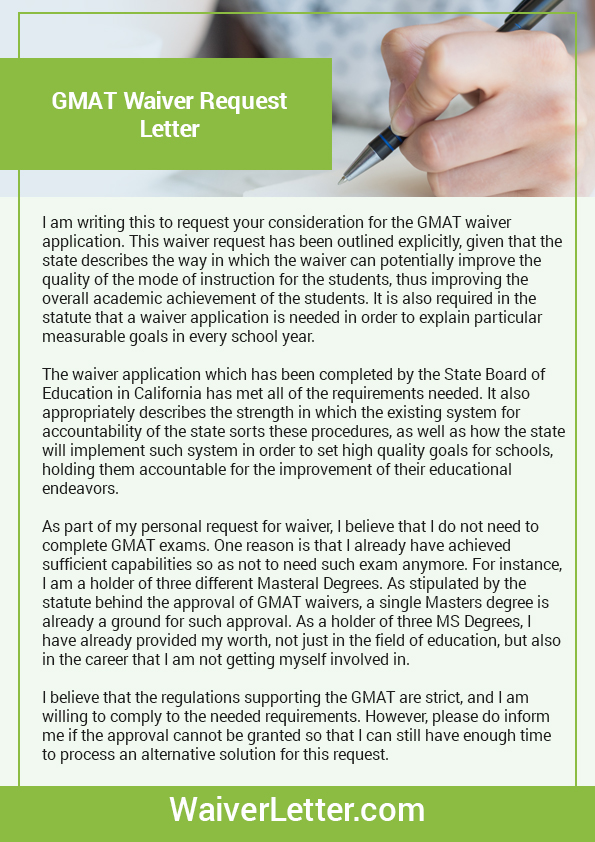 Writing the GMAT Waiver Letter
Some schools may require that GMAT waiver letters be written in a specific way and you should check with individual institutions before writing your waiver letter. The following are the basics that might be expected of a GMAT waiver letter:
Introduction/First paragraph: Statement that you are requesting the GMAT application requirement be waived.
Body:

Second paragraph: Reasons why you feel that the GMAT requirement should be waived. Provide the history of your professional work experience that demonstrates the use of the same skills as those measured by the GMAT. Show that your work performance indicates that you possess these skills at a level that will enable you to perform up to the standards of the program.
Third paragraph: Provide specific examples from your work experience as evidence to support your claim that you have these skills

Conclusion: Thank admissions for considering your request
Write the GMAT waiver letter using a business letter format unless directed to do otherwise. If you are unsure how to write the GMAT waiver letter, our service can assist you.
Our Waiver Letter Writing Service
We specialize in English waiver letter writing for any purpose including GMAT waiver requests. The professional writers we use have advanced degrees and are well experienced working with GMAT waiver letters. Advantages of using our service include:
Original GMAT waiver letters tailored to meet your specific requirements
Guarantee of customer satisfaction and on-time delivery with every letter
Affordable rates that will suit your budget
Live customer support 24/7
For an effective GMAT waiver letter that gets results, contact us with your GMAT waiver letter requirements!